REGISTRATION OPEN NOW!!! – CLICK HERE
We are excited to open up for the first time ONLINE Registration for our 2020-2021 St. Timothy Middle and High School Youth Ministry and Confirmation. We can't wait to see all our student back here in the fall 2020-2021 school year! Faith Formation is an integral part of our students lives as they mature into faithful disciples for Christ and gather with with peers who share the same values and beliefs. Not only that but Youth Ministry is so much fun at St. Timothy's in our amazing John Paul II Youth Center, complete with a gym and of course "The Underground"! Click on the link below for Middle School. Those seeking Confirmation must be enrolled for 2 years in 9th grade and then receive Confirmation in 10th grade. Links to Confirmation Registration are found on our Youth Confirmation page under the sacraments sidebar.   
2020-2021 Middle School EDGE Faith Formation Registration (6th-8th) – CLICK HERE
MADE KNOWN
Middle School Discipleship Camp
We are all called to become saints — to follow Jesus, who is the way, the truth, and the life — but what does that look like? What are the foundations of living a holy life? What does it mean to be a saint?
Made Known is a summer camp designed specifically for middle school youth that reveals what it means to be a saint. Each day lays out different foundations in the path of holiness, providing a diverse selection of saints as examples. The youth will learn the importance of loving God, seeking truth, and having courage as they follow Jesus on the path to sainthood. We are offering this camp June 29-July 3 8:30am-3pm and the cost is $50 that includes a shirt, lite breakfast and lunch. Due to Covid-19 we are only allowing a small group of students to participate in order to follow social distancing measures that will be in place for our camp. This camp includes prayer, mass, adoration, games, leadership development and some service opportunity.
CLICK HERE TO REGISTER
St. Timothy Sports Camps Canceled
Unfortunately due to the Covid-19 our St. Timothy Sports Camps have been canceled this year. It was our hope that we would be able to manage our sports camps safely in June but we are limiting the usage of our Youth Center and all of our sports camps have some form of unsafe contact. We hope to continue our Sports Camps next year at St. Timothy. We hope you all understand our decision.
EDGE – Middle School
Youth Ministry Zoom Schedule
For the month of May we will continue to just do Wednesday and Sunday Zooms. Wednesday will be open to all of our students in Middle and High School and Sunday will be High School Only.  Please check parent emails for our zoom links.
St. Timothy Summer Youth Ministry
We are excited to see our student come back to St. Timothy in June as we look forward to beginning a summer program that incorporates all the necessary procedures to remain safe during Covid-19. We will not continue Zoom meetings in June and July.
June Schedule
In June we will have outdoor Youth Ministry Only! Beginning June 3rd we will start our Youth Ministry Summer Schedule that meets Wednesday's from 6:30pm-8:30pm for both middle school and high school students and Sunday's from 6:30pm-8:30pm. Sunday June 21st will be canceled due to Father's Day. We ask students to bring a lawn chair and a bible. We also will be requiring students to wear a bandana that we will provide during our non-contact sports activities outside. Students will only be allowed one at a time to come into the Youth Center to use the restrooms. Hand sanitizer will be required for east student as they sign in at the beginning of the night. We will also be sanitizing all our sports equipment.
July Schedule
If things continue to progress in a positive direction with the pandemic we will be able to open up the youth center for youth ministry and continue to social distance and follow all procedures to remain safe during this time. Our schedule will remain the same on Wednesdays and Sundays.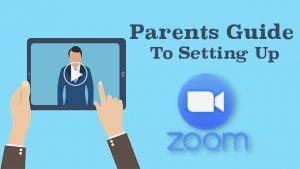 Zoom Links Emailed To Parents Enrolled In Youth Ministry & Posted Daily On Youth Ministry FACEBOOK GROUP:  St Tims Life Teen
If you would like to enroll your student and are not receiving our zoom links please email
Jen.linder@sainttims.org
.  Note: many of our emails may be in your junk mail, just search your junk mail for St. Timothy Youth Ministry.
Youth Ministry is transitioning to meeting online with students. We are doing this primarily in Zoom meetings. We are working very hard on these gatherings to make them interactive, fun and engaging to keep them growing as a disciple during this time being locked-in. We want all of our students Middle and High School to log-in and join us. Please encourage your child to join us online and hopefully make it a priority for them to continue to grow in their faith.
How To Set Up Zoom Meetings:
This is where we will meet daily with students. As the host, Justin Lantz will have full access to mute students' video or audio, allow students to join the group, and the group will end when I exit the meeting. Each Zoom has at least two safe environment trained adults.  It is a safe way for our group to meet and allows us to continue to build our community during this time.
To Join on Phone:
Follow the link sent out via our emails, Facebook Group or that can be found on our Instagram page that says, "Join Meeting."
The link will prompt you to download Zoom. You do not need an account to join. There will be a prompt to put your name in once the meeting starts. We ask students to put in their name and grade number.
Once downloaded, click the "Join Meeting" button and enter in our meeting ID (last 9 numbers on the link) found in the email, FB or Instagram, OR, re-click the link sent out then click "Join Meeting."
This will lead you to the meeting and place you in the Waiting Room until the host admits you into the video meeting.
Please be sure to go through our zoom etiquette with your student.
To Join on Computer:
Follow the link sent out via our email or Facebook group or on the Instagram page that says, "Join Meeting."
A tab will open up and a download will start for the Zoom program.
Once downloaded, a screen will pop up to prompt you to allow video and audio. Click "allow."
This will lead you to the meeting and place you in the Waiting Room until the host admits you into the video meeting.
Please be sure to go through our zoom etiquette with your student.
Note:
All downloads are free, and you do not need to make an account if you do not want to. All you need is the link for the meeting.
Please make sure you are able to use the audio on your device.
You may need to manual give the app permission in your phone settings.

Links:

We'll give you the tools you'll need to carry out a Family Experience each year including:
A Planning Guide to walk you through the resources.
2 Videos explaining the why and how of each Family Experience.
Kick Starters for Biblical family discussion time to lead up to the experience.
Each year we'll focus on the biggest milestone for the year and give you the tools to make this milestone one to remember.
Youth Ministry Office Hours
Sunday 3-9PM
Monday 9AM-1PM
Tuesday-Thursday 9AM-5:30PM
Other times by appointment only
Justin Lantz, Parish Youth & Young Adult Minister
justin.lantz@sainttims.org
Jen Linder, Coordinator of Youth Ministry
jen.linder@sainttims.org