EDGE MS YOUTH MINISTRY FAITH FORMATION REGISTRATION 2023-2024 INFO
ARE YOU REGISTERED FOR OUR 2023-2024 FALL/SPRING SEMESTER?
All registration is online, however, we do require physical, notarized medical forms to be turned in ASAP to allow students to participate.
For your convenience, we have a notary at the Church office or at the Youth Center.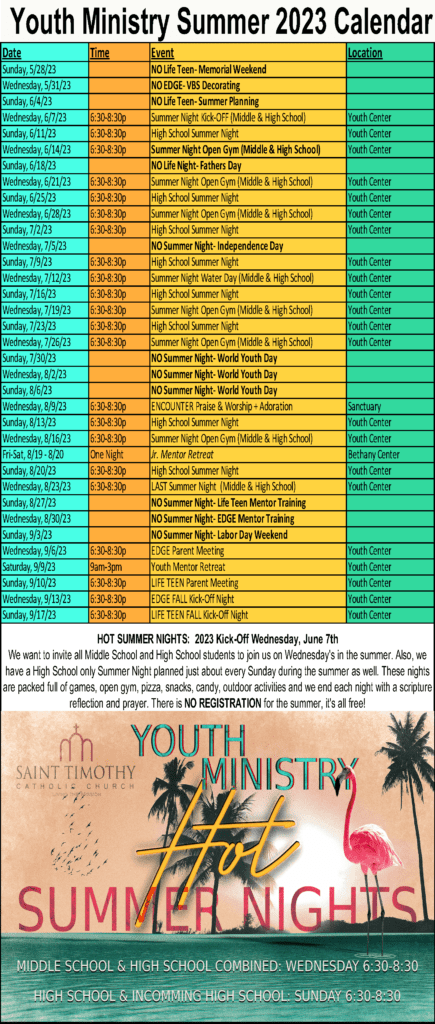 WANT TO REGISTER FOR 2024 SUMMER CAMPS? Plan Ahead…
Students who want to secure a spot for our 2024 Hidden Lake Summer Camps must have a parent attend our upcoming parent meetings. Registration for these specific camps will open at the parent meeting to secure their spot. Parents who do not attend may not get a spot for next year. It's imperative that all our parents attend these meetings even if you don't plan on sending your students to summer camp next year. Parent meeting dates above and listed on our Fall/Spring Calendars.
EDGE Snacks
Looking for 2 families each week to bring snacks for 50 on EDGE nights. One family brings salty snacks and another family brings sweet snacks. Bring the snacks at 6:20pm – teens start arriving at 6:30pm. Sign Up Form Coming Soon!
Middle School Lock In
January 12, 2024 from 7pm to January 13, 2024 9am – More Info Coming Soon
ADULT MENTORS NEEDED
A program like this can only be run by parish support. I have to say that it's been a joy to watch students grow but it has also been a joy to work with a great group of adults and parents who mentor students. We are always looking for more people who would be dedicated and called to minister to our youth. The commitment is once a week, either Wednesday with our Middle School students or Sunday evening with our High School students. If you feel like God is nudging your heart right now, please email jen.linder@sainttims.org and let her know what grade level you would like to work with.
Every Middle School student at St. Timothy should be registered for our 2023-2024 Youth Ministry and Faith Formation. We all remember that middle school was awkward and difficult. That hasn't changed. However, societal shifts have made the middle school years more difficult than ever. It's such an integral part of our students lives in these formative years in helping them develop a strong relationship with Christ and dealing with the many trials they will come face to face with in Middle School. Not only that but our EDGE Middle School program is fun, engaging and a place that students want to be apart of in our amazing Youth Center and gym that we utilize every single Wednesday. We realize sports and other extra curricular activities get in the way occasionally on Wednesdays but registering students gives them access to all our activities throughout the year including trips and retreat. Not only that but parents will also receive amazing online tools, resources and support groups that are sure to help you as a parent. So parents please register today!!!
---
Youth Ministry Office Hours
Justin Lantz, Parish Youth & Young Adult Minister
justin.lantz@sainttims.org
Jen Linder, Coordinator of Youth Ministry
jen.linder@sainttims.org
Sunday 3-9PM
Monday 9AM-1PM
Tuesday-Thursday 9AM-5:30PM
Other times by appointment only
Links:

We'll give you the tools you'll need to carry out a Family Experience each year including:
A Planning Guide to walk you through the resources.
2 Videos explaining the why and how of each Family Experience.
Kick Starters for Biblical family discussion time to lead up to the experience.
Each year we'll focus on the biggest milestone for the year and give you the tools to make this milestone one to remember.