Are you interested in learning more about the Catholic faith?
We invite you to join us on Thursday evenings for prayer, reflection, and discussions about the Church and the Sacraments! The Order of Christian Initiation of Adults (OCIA) is a process by which adults can gradually learn about the Catholic faith and way of life. Whether you are completely new to Catholicism or are simply looking to deepen your understanding, OCIA offers a welcoming and supportive environment for your journey. The OCIA process is designed to help you grow in your understanding of the Catholic faith and prepare for full communion with the Church. These sessions are also great opportunities for you to ask those perplexing and difficult questions you may have about the church!
OCIA is meant to be a gradual process with different phases. The graphic below provides a good summary of each of the phases someone in OCIA will go through before becoming Catholic.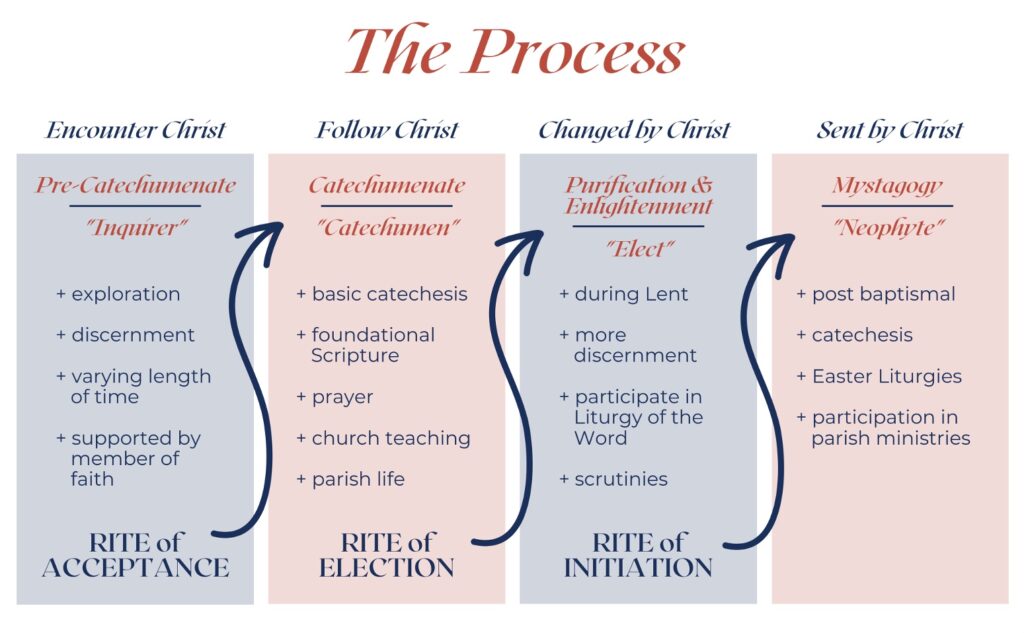 If you are interested in learning more about OCIA, just reach out to Joe Nieves at 813-961-1716, or joseph.nievesserrano@sainttims.org
Recommended Resources
Symbolon: The Catholic Faith Explained
This program provides a systematic presentation of our Catholic Faith. It will lead you through the "big picture" of the Catholic Faith and our Creed is the guide.
https://watch.formed.org/symbolon-the-catholic-faith-explained
Convinced: Why Would Anyone Become Catholic?
Why would intelligent, successful people give up careers, alienate friends, and cause havoc in their families…to become Catholic?
https://watch.formed.org/convinced-why-would-anyone-become-catholic/videos/convinced-why-would-anyone-become-catholic
US Catholic Catechism for Adults
The presence of the Catholic Church in the United States reaches back to the founding days of our country. The United States Catholic Catechism for Adults, gives us a glimpse into the lives of Catholics who lived out their faith throughout our country's history. Each chapter in the United States Catholic Catechism for Adults includes stories, doctrine, reflections, quotations, discussion questions, and prayers to lead the reader to a deepening faith
https://www.usccb.org/beliefs-and-teachings/what-we-believe/catechism/us-catholic-catechism-for-adults
ECHO with Bishop Donald Hying
These short and engaging videos introduce each chapter of the US Catholic Catechism.
https://watch.formed.org/echo-with-bishop-donald-hying
It's easy and free to start enjoying FORMED!
1 Go to https://signup.formed.org
2 Select your parish, St Timothy Lutz FL
3 Register with your name and email address
4 Check that email account for a link to begin using FORMED
Helpful Apps and Podcasts! Click Here!