Join us for the UNBOUND: FREEDOM IN CHRIST Conference
Feb 10th, 2023 – Feb 11th, 2023
TWO DAY CONFERENCE SCHEDULE – CLICK HERE FOR SCHEDULE!
Friday, February 10 – 6:30pm – 9:30pm
Saturday, February 11 – 9:00am – 8:00pm
Tired of feeling frustrated – angry – isolated – insecure? Struggling with addictions, repetitive sin, unforgiveness, and/or feeling like you just don't belong?
Come learn how to claim the freedom God has for you!
Transformed by Christ – Click here to read an article in the Gulf Coast Catholic about Unbound.
Click here to listen to an interview with Neal Lozano from SpiritFM
At the UNBOUND Freedom in Christ Conference, you will learn a non-confrontational approach to becoming and staying free from the things that bind you and keep you from having the relationship with God and others that you long for. Unbound is a tool that can be part of every Christian's armory to help fight the invisible battle for freedom.
At the Unbound Conference, you will learn the importance of this model and how to apply it in your spiritual journey.
The conference involves times of prayer and worship, insightful teaching, and personal ministry from our ministry teams. This conference will equip you to cooperate with God as He sets you free.
We are sorry, the training prior to the conference is now full. We are no longer able to accept registrations for the training.
Registration for the conference is still OPEN.
Guest Speakers: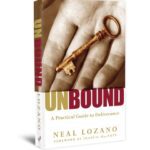 Neal and Janet Lozano have more than forty-five years of experience helping people find freedom in Christ.  Neal, the Executive Director of Heart of the Father Ministries has a master's degree in Religious Education and is the author of Unbound: A Practical Guide to Deliverance along with eight other books.  Janet, who has a degree in Nursing, now serves as the Assistant Executive Director for Heart of the Father.  Aside from training and equipping teams with Unbound ministry, she has a great love for ministering to God's children and seeing them set free.
FAQs
Scholarships available for those who need financial assistance
The Unbound Freedom in Christ workbook, which provides an outline of each talk, will be available for purchase for $15 at the conference.
All meals are provided by the St. Timothy Men's Club. We apologize, we cannot accommodate food allergies.  There is a refrigerator and microwave upon request. Please eat before arriving on Friday evening.  We will enjoy three meals together on Saturday.
Sometimes our church gets cold, bring a sweater.
Don't forget a journal if you'd like a place to notate promptings from the Holy Spirit.
There will be various books and training curriculum available for purchase at the conference.
It is recommended to read the Unbound book prior to the conference – You can purchase the book at Heartofthefather.com or Amazon
Standard Registration and walk-ups: $60 per ticket to attend Friday and Saturday Sessions
Please contact Michele at 813 388-8169 or email unbound.prayer.ministry@gmail.com with any additional questions.
What if you could reach out and touch God's love, and NEVER be the same?
Everyone is fighting an invisible battle:
– negative thoughts, secret sins, and unhealthy relationships
– destructive habits, idols, and false identities
– resentments and bitter wounds that never seem to heal

Unbound is a ministry of healing in which a trained prayer team prays with individuals to assist them in overcoming the spiritual obstacles they encounter in their path of Christian discipleship and take hold of greater freedom in Christ. This ministry uses the Five Keys of the Unbound model of deliverance developed by Heart of the Father Ministries (heartofthefather.com). Individuals who come for Unbound prayer share their personal story related to the area where they sense they need freedom and are led by the prayer team through a series of prayers based on the Five Keys of Unbound:
▪First Key: Repentance and Faith ▪ Second Key: Forgiveness ▪ Third Key: Renunciation
▪Fourth Key: Taking Authority ▪ Fifth Key: The Father's Blessing
Examples of situations where Unbound prayer can be an effective help for individuals include:
Marital/family discord
Inability to forgive
Relationship struggles
Habitual sin
Persistently negative view of God or self
Chronic fear, anxiety or sadness
Stalled spiritual life
Anywhere in your life where you feel "stuck" and desire greater freedom
Unbound Prayer does not replace the ordinary means of growth in the Christian life such as personal prayer and the sacraments. Nor does it replace the ordinary means of human development such as counseling and other forms of psychological support. It serves as an additional tool that addresses the specifically spiritual influences that are frequently a part of any personal problem.
Want to Schedule an Unbound Prayer Session?
Please click on the button below to schedule a prayer session or to receive more information about Unbound.
For questions, please contact Michele Laurain at unbound.prayer.ministry@gmail.com or 813-388-8169
The thing the church needs most today is the ability to heal wounds and to warm the hearts of the faithful… I see the church as a field hospital after battle. – Pope Francis