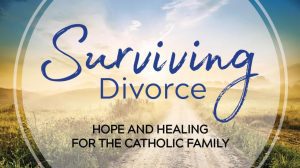 Going through divorce? Already divorced?
This powerful 12-week program is designed to guide you to encounter Christ – with all of his love, mercy and healing power in a deeply personal way.
Surviving Divorce was created to move past the pain of one of life's most difficult experiences. Don't go through separation or divorce alone. Surviving Divorce leaders have been through divorce themselves and are examples of the healing and restoration that can occur after the breakup of a marriage.
Surviving Divorce healing ministry is open to ALL, regardless of faith or length of your separation or divorce.
Listen to a recent interview on SpiritFM by clicking here.
Registration is closed for our February 2023 program. For more information, please contact Gina Gawienczuk at gina@sainttims.org.
For additional information, video and testimonials about program, please check the tabs below.
Links
Testimonials
About The Author
Read article about program in the Tampa Tribune here.
For more information, please contact Gina at gina@sainttims.org.
"Give yourself that gift to discover who you are as a person of divorce or separation. This program evaluates where you have healed and what further areas of your life you neglected to prevent making the same mistakes in future relationships." GARY – CDSG Facilitator

"It doesn't matter if you were married 4 years or 34 years…this ministry heals the broken hearted." TENNILLE – CDSG Facilitator

"I felt God's grace which led to involving myself more meaningfully in my faith. This gave me a new perspective on how the Sacraments can bring healing, peace and even love to a sad circumstance." GWEN – OLOR Parishioner

"CDSG helped me to grow more as a person and find out what I am capable of doing in my life. The CDSG ministry has a lot to offer – you won't feel alone or left out." SARAH – OLOR Parishioner

"CDSG gave me a safe place to heal with people who understood my feelings, struggles and fears in concordance with Catholic teachings. This program gives you HOPE… it doesn't let you forget that you still belong to Christ's family – the church will always be your home." ROSALIA – OLOR Parishioner
The 12-week DVD series was produced by popular speaker and author, Rose Sweet, who is about relationships and helping readers to put Catholic moral principles into real-life practice. "Every problem we have with others comes for our not remembering the Love we already have." She incorporates Theology of the Body principles into all of her topics and is faithful to the teaching Magisterium of the Catholic Church. She's been a guest on national radio and television programs and her books have been translated into several languages.