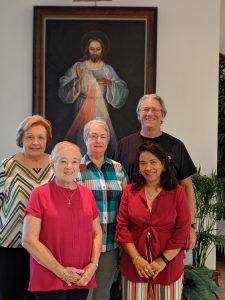 Parish Health Ministry
Vision:    Through the Parish Health Care Ministry, the health and lifestyle of the parishioners will  be enhanced.
Mission:   The Mission of the Parish Health Ministry is to foster and promote healthy lives by improving health knowledge, good decision making, awareness, and involvement through information, cooperation and collaboration that we may "Courageously live the Gospel in Good Health"
What do we do:  The Parish Health Ministry is a resource of health information for Parishioners
Membership: Open to all.
Meetings:  4th Tuesday of the month at 4:30 PM in Parish Hall
Point of Contact:
Dave Kotun, Email Dave
Essay for July – Sun Safety Month
In Florida we are closer to the equator than most of the United States of America. We should be more cautious in our sun exposure. Sun overexposure causes a wide constellation or problems. The most publicized ones are the direct skin damage, from dry skin to sunburn to lesions that may lead to skin cancer. What we overlook often is that exposure to warm/hot sunny days can result in dehydration, heat stroke, heat exhaustion and sun poisoning. Sun exposure can also cause some eye problems, especially in our climate. Please take care with yourself and others. Pets, children, and the elderly can be especially susceptible to the problems caused by the sun. Leaving anyone or any pet in a hot car can quickly lead to problems for the victim.