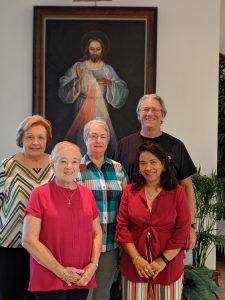 Parish Health Ministry
Vision:    Through the Parish Health Care Ministry, the health and lifestyle of the parishioners will  be enhanced.
Mission:   The Mission of the Parish Health Ministry is to foster and promote healthy lives by improving health knowledge, good decision making, awareness, and involvement through information, cooperation and collaboration that we may "Courageously live the Gospel in Good Health"
What do we do:  The Parish Health Ministry is a resource of health information for Parishioners
Membership: Open to all.
Meetings:  4th Tuesday of the month at 4:30 PM in Parish Hall
Point of Contact:
Cristina Spiegel, Email Cristina or Dave Kotun, Email Dave
Thank you all the members of the Health Ministry Committee and our Parishioners for being patient through the pandemic. It is time to restart some of our functions. We will have some opportunities in the near future for screenings, education, and events. I will keep you all posted on any news I receive from the Faith Community Nursing contacts at St. Joseph's hospital. I will send all a intention request after Epiphany to reform our committee and garner support from our members. We will have a calendar and a list of members with their specific skillset out to our committee so we can further help our Parishioners at St. Tim's live healthy lifestyles. Take care, have a very Holy and Merry Christmas and let 's pray next year is a little less hectic.
Dave Kotun
Social distance your toothbrush if you're sick
One of the most important things anyone can do to prevent discomfort, disease, and cardiac problems is to maintain good oral hygiene. It is really important to brush and floss regularly and if you are fortunate to live with your loved ones, it is important to maintain the cleanliness of your oral care products, especially your toothbrush.
Right now, it's more important than ever to practice proper toothbrush hygiene – especially if you're sick. Because when you brush your teeth, germs end up on your toothbrush. And if it's stored in a shared toothbrush holder, germs can spread to other people in your house.
That's why we're sharing toothbrush hygiene tips that can help keep your family healthy, whether you have a cold, the flu, and especially if you get COVID-19.
For more oral hygiene tips and future updates on oral care during COVID-19, visit our Dental Health Center.
Keep your toothbrush separate
Isolate your toothbrush by your bedside table or in another separate area. Keep it upright in a cup or other toothbrush holder.
Wash your hands before brushing or flossing.
The CDC says to wash with soap and water for at least 20 seconds, or use hand sanitizer that's at least 60% alcohol.[1] Make sure to wash your hands afterwards, too.
Disinfect the handle
After brushing, wipe the handle with a safe household disinfectant. The coronavirus can live for 2 to 3 days on plastic surfaces like a toothbrush.[2]
Don't contaminate the toothpaste
Squeeze toothpaste onto a Q-tip or piece of wax paper, then apply it to the bristles. Don't touch the brush with the tip of the tube.
Never share a toothbrush
Adults know better, but kids can grab the wrong brush by mistake. Try color coding the family's toothbrushes to help prevent swapping bacteria.
Trash your toothbrush after being sick
Get a new toothbrush or new head if you use an electronic toothbrush. Even if you're healthy, you should replace your toothbrush every 3 to 4 months.[3]