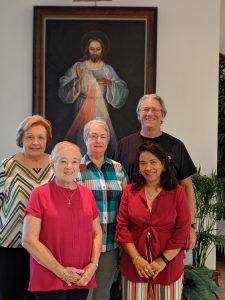 Parish Health Ministry
Vision:    Through the Parish Health Care Ministry, the health and lifestyle of the parishioners will  be enhanced.
Mission:   The Mission of the Parish Health Ministry is to foster and promote healthy lives by improving health knowledge, good decision making, awareness, and involvement through information, cooperation and collaboration that we may "Courageously live the Gospel in Good Health"
What do we do:  The Parish Health Ministry is a resource of health information for Parishioners
Membership: Open to all.
Meetings: 4th Tuesday each month at 6:30 PM
Point of Contact:
Dave Kotun, Email Dave
Atrial fibrillation awareness month article:
Atrial fibrillation, often called AFib or AF, is the most common type of irregular heartbeat. When a person has AFib, the normal beating in the upper chambers of the heart (the two atria) is irregular, and blood doesn't flow as well as it should from the atria to the lower chambers of the heart (the two ventricles). This may cause the heartbeat to be less effective when pumping blood to the lungs and body. It can happen in brief episodes, or it may be permanent.