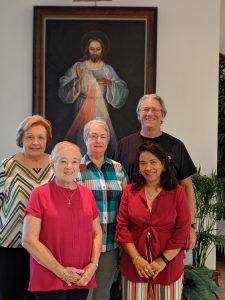 Parish Health Ministry
Vision:    Through the Parish Health Care Ministry, the health and lifestyle of the parishioners will  be enhanced.
Mission:   The Mission of the Parish Health Ministry is to foster and promote healthy lives by improving health knowledge, good decision making, awareness, and involvement through information, cooperation and collaboration that we may "Courageously live the Gospel in Good Health"
What do we do:  The Parish Health Ministry is a resource of health information for Parishioners
Membership: Open to all.
Meetings:  To be announced
Point of Contact:
Dave Kotun, Email Dave
Essay for September 2021 – Cholesterol Awareness
Hello Blessed parishioners,
An important part of living in Christ is to stay healthy and able enough to do the Lord's work. A part of being healthy and hale is to manage our lipid profile, more commonly known as our cholesterol. Managing cholesterol helps delay or hold off the blockages in our blood vessels that can contribute to many serious conditions which can render us infirm.
Cholesterol/Lipid normal values come from several components of your total cholesterol makeup. I listed first the recommended values, then the components of your lipid test results. Checking with your health care provider first will start you on your journey to keep your lipids in normal levels and your heart and blood vessels healthy and clear.