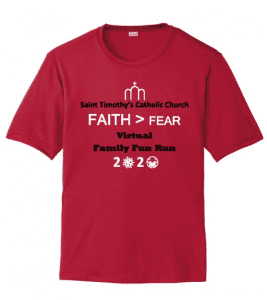 WHY A VIRTUAL FUN RUN?
With the pandemic's disruptive effect on our lives and economy, numerous events are cancelled, including our Parish's Fall Festival. This virtual event will help our parish community "come together" to participate in a positive, healthy event. Our theme – "Faith is greater than fear." Our goal is to promote the concept that God is in control even in uncertain times, and our trust in Him will overcome any fear.
ALL CAN PARTICIPATE!
We encourage all parishioners to participate in a Virtual Fun Run/Walk during the last two weeks of October. All are welcome – runners and walkers, young and old, fast and slow! Basically, gather your family, select a one-mile route, wear our specially designed t-shirts, and run/walk as fast or as slow as you want. You pick the date and time! It's that simple, yet our combined action will speak volumes in sharing our Faith message.
After holding your family event, please take a photo of your effort (in your shirts, if you have them). We will send you a link to upload the photos after the race. We plan to assemble the submitted photos and make a collage to bring everyone "back together!"
FOR PARTICIPANTS WHO REGISTERED BEFORE 9/30/2020
• Pick-up your T-Shirts: If you haven't already done so, please pick up your t-shirts at the Parish Office during office hours.
• Conduct your Family One Mile Run/Walk by 10/31: You have until 10/31 to gather yourself and/or your family and go for a one-mile run/walk, hopefully wearing your t-shirts to share our "Faith is greater than fear" message. Pick a date/time that is convenient for you. Parish clergy put together a "Virtual Start" for you to play when you start your run/walk. Please go to this link when you plan to start:  _______To be provided_______
Even if you didn't order one of our specially-designed shirts, no problem, still join your fellow parishioners for a virtual run/walk too!
• Send us your Family photo by 10/31: Take a family photo (with your t-shirts, if you have them on), then email your family's photos from your event to contact@sainttims.org.
We will assemble the individual photos and create a collage to "bring us together" for this special event. We may extend the time to submit photos until mid-November, but we'll let you know when it's ready!
FOR PARTICIPANTS WHO WANT A SECOND CHANCE OPPORTUNITY TO ACQUIRE A T-SHIRT
Based on the demand from some parishioners who didn't register for t-shirts by the 9/30 deadline, we will submit a second t-shirt order on Tuesday, 10/27. The t-shirts are polyester, uni-sex dry-fit shirts from the same supplier as the past two years' Fall Festival Fun Run. Available shirt sizes run from Youth X-Small to Adult XXX-Large. The cost will remain at $4/shirt for the first 100 t-shirts in this order, with XX-Large and XXX-Large for $1.50 more. Once the 100-shirt limit is reached, the registration site will be closed. T-shirt processing and shipping is expected to take two weeks. You'll be notified when the t-shirts arrive and details on where to pick-up your t-shirts.
Depending on the number of participants in this second order, we will consider extending the 10/31 deadline to submit photos.
If you have any questions, please contact the Event Co-Chairmen: Roger Caruso, 813-767-0071, mrmrcaruso@msn.com or Deacon Glenn Smith, 813-968-1077, deaconsmith@sainttims.org.