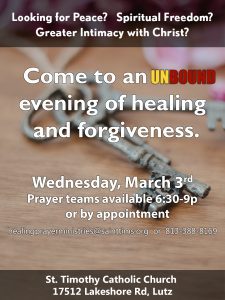 Unbound is a gentle, non-confrontational healing prayer model that focuses on listening to your story in a loving and strictly confidential space.
Join us to hear a short presentation about what to expect during a prayer session and how you can benefit.
Prayer teams will be available during praise and worship/Adoration on Wednesday, March 3 following the 6pm Mass. Prayer is also available anytime by appointment.
Questions? Call Michele at 813-388-8169.