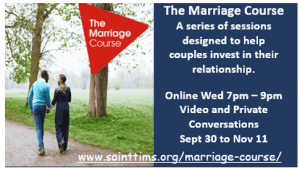 New Online Course for Married Couples!
WEDNESDAY, SEPTEMBER 30 – NOVEMBER 11 FROM 7PM-9PM
The Marriage Course (TMC) is for couples who are seeking to strengthen their relationship.
Whether you're married 6 months or 60 years, whether in a good place or struggling, the course helps couples navigate the modern challenges in a marriage.
TMC is designed to help couples build strong foundations, learn to communicate more effectively, and resolve differences well.
Some couples do the course to intentionally invest in their relationship, others are looking to address more specific challenges.
Either way, the course offers essential tools and practical ideas to help you build a relationship that lasts a lifetime.
Information and Registration in the Narthex 9/19 and 9/20 after each mass.
For more information and to register, CLICK HERE.