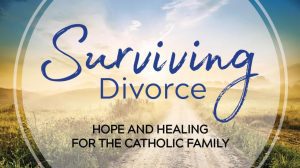 Going through divorce? Already divorced? Then this powerful 12 week program is designed to guide you to encounter Christ – with all of his love, mercy, and healing power in a deeply personal way.
Surviving Divorce was created to move past the pain of one of life's most difficult experiences. Don't go through separation or divorce alone. Surviving Divorce leaders have been through divorce themselves and are examples of the healing and restoration that can occur after the breakup of a marriage.
Surviving Divorce healing ministry is open to ALL, regardless of faith or length of your separation or divorce.
Listen to a recent interview with SpiritFM by clicking here.
A new program begins February 4th, 2021. We will meet on Thursdays from 7-9pm. $30 includes materials. You can register online by clicking here.  For more information, contact Gina Gawienczuk at gina@sainttims.org.