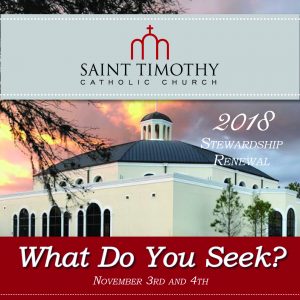 All parish families are asked to bring their Commitment Card to Mass the weekend of November 3/4.  During Mass, as a parish community, we offer God our gifts of time, talent, and treasure.  Our goal is to be a Stewardship Parish—a community noticeably committed to prayer, parish ministry, and generous financial support.  All three are equally important.  May God bless you as you make your commitments.
If you'd like to submit your commitment card online, please click here!
Get more information and listen to Fr. Malley and Tom Souza speak about the Stewardship Renewal, click here!