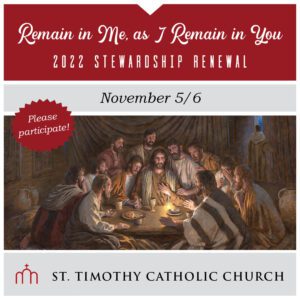 "Remain in me, as I remain in you. Just as a branch cannot bear fruit on its own unless it remains on the vine, so neither can you unless you remain in me." — John 15:4 
All parish families are asked to bring their Commitment Card to Mass the weekend of November 5/6.  During Mass, as a parish community, we offer God our gifts of time, talent, and treasure.  Our goal is to be a Stewardship Parish—a community noticeably committed to prayer, parish ministry, and generous financial support.  All three are equally important.  May God bless you as you make your commitments.
If you'd like to submit your commitment card online, please click here!
If you'd like to review the Ministry Guide, please click here!
Stewardship Prayer
Jesus, teach us to pray. Help us to manage our time so that we can spend it with You.
Holy Spirit, fill us with your gifts. May we offer ourselves in sacrifice for our parish and for all in need.
Father, give us generous hearts. Help us to manage our finances and to offer first fruits to you.
As your faithful disciples, we ask this for ourselves and for Catholics everywhere,
through Jesus Christ our Lord.
Amen