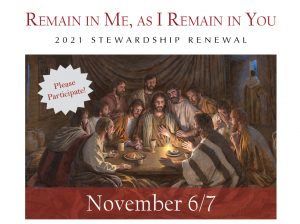 Please bring your completed Commitment Card with you to Mass on November 6/7, mail it to the parish office or fill it out online by clicking here!
On the eve of His death, Christ washed the disciples' feet, and then spoke at length with them in a most serious manner. He said, "Remain in me, as I remain in you.  Just as a branch cannot bear fruit on its own unless it remains on the vine, so neither can you unless you remain in me. I am the vine, you are the branches. Whoever remains in me and I in him will bear much fruit, because without me you can do nothing."
Today, Christ invites you to Remain in Him as his modern-day disciple. Will you say "yes" to Him and bear His fruit through the stewardship way of life?
Our parish is holding a Stewardship Renewal because we believe that God wants us to continue to grow as a stewardship parish, a community of people who actively use all their gifts as disciples to continue to build the Kingdom of God. Please join this effort by making commitments in the following areas:
Time: Set aside time for personal prayer and family prayer every day
Talent: Participate in service of those in need through involvement in our parish ministries
Treasure: Commit to giving 5% of your income to God in accordance with the scriptural tithe
Sometimes commitments like these involve sacrifice — but I think you will find that they are sacrifices filled with joy. Why? Because serving God and others is what makes us truly happy! Far from being a burden, stewardship allows us to live joyfully as disciples of Jesus.
Please take the time to sit down with your family and prayerfully consider how God is calling you to grow in service to Him this year. Again, this isn't a temporary program. It is a way of life in our parish. Jesus is inviting you to come and follow Him with all your heart, mind and strength — and with your time, talent, and treasure. Will you accept the Lord's invitation and Remain in Him?