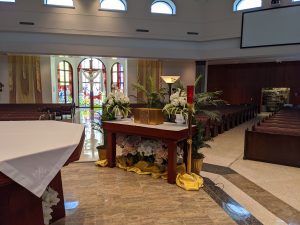 We are eager to open our doors, and to celebrate our parish liturgies together. We are proceeding with careful preparations.
Phase I:
Monday, May 11th – we will begin by having the church open for prayer from 12:00pm – 6:00pm (Monday-Saturday, May 16), with our liturgies "live-streamed" daily at 9am and on Sunday at 9am and 5:30pm. Confession and Adoration times are the same.
Phase II:
Monday, May 18th at 9am – we will resume daily mass (Monday-Saturday) with new entry, and safety protocols in place. Watch this video outlining the protocols for entry and seating. Face masks are highly encouraged.
During Phase II, we will continue to live stream daily mass at 9am along with Sunday Masses at 9am and 5:30pm.
Phase III:
Community Sunday Mass. Hopefully this will be at the end of the month for Pentecost Sunday (May 31).
In our plans and preparations – we are ordering the supplies needed to prepare the church, and also to be able to sanitize after each mass, for your safety and those you come in contact with.
Thank you for all your prayers for our work and ministry in the parish. I am looking forward to getting to see many of you soon. It is still recommended that you stay at home – if your health is compromised, or you have any flu like symptoms. This is new territory for all of us. I want you to know that I am asking the Lord for guidance in all our preparations.
As we prepare for Pentecost – we can ask the Holy Spirit to guide us each step of the way. "Come Holy Spirit!"
Peace and Blessings,
Fr. Kenneth Malley