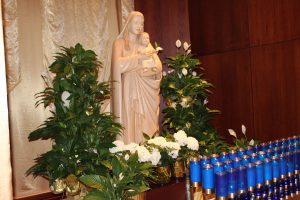 Public Mass at St. Timothy – No Sign Ups Necessary. Come and See!
"Be Patient and Be Kind" as we begin. New protocols will be in place for your protection, and the care of the community. Here is a brief of our plan.
If you are not feeling well, or you are in an "at risk" category, stay home. Dispensation is still in place for those who are unable to attend Sunday Mass.
Parish Office will be open Monday – Friday 9:00am-1:00pm – Wednesdays from 9am-4pm.
1. ARRIVAL PROCEDURES
Wash your hands and use a hand sanitizer before you arrive, and when you enter.
Masks (for ages 2+) should be worn as soon as you exit your vehicle.
Arrive at our main entry (Sunday) at least 20 minutes early.
A greeter will meet you by the door.
In the pews, social distance is required for those outside your own household.
The tabernacle from the original church is in the main sanctuary.
You are now asked to genuflect as you enter.
2. MASS PROCEDURES
"Service Teams" – greeters, ushers, sacristans, and a "transition team" (preparing for the next liturgy) will be prepared in advance. The transition team will assist in wiping down the front and back of the pews to prepare for the next liturgy.
Music will be provided for the liturgy.
No physical contact between different households at the Sign of Peace, or hand-holding during the Lord's Prayer.
Offertory Collection baskets will be placed at the entrance and exit of the church.
This is a great time to sign up for sign up for online giving. We are here to assist.
3. COMMUNION PROCEDURES
Communion lines (single file) will be guided by an usher.
At this time, we will only be distributing the Host, the Precious Body of Christ.
Prepare reverently to receive by hand – placing one hand beneath the other.
Keep your face mask on until you are given communion. Then step to the side, release your mask, receive, replace your mask, and return to your pew.
4. DEPARTURE PROCEDURES
Be Patient. Be Kind. This is new for all of us.
You are asked to remain in your pew until an usher guides you to exit.
Please keep the sidewalks clear for the entire community to exit.
5. Post Mass – Service Team and Staff
We will be sanitizing after each mass: disinfecting pews, bathrooms, door handles, and other frequently touched surfaces.
We are looking for Service/Transition Teams. Please let us know if you are able – contact@sainttims.org.