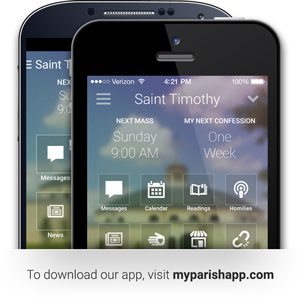 We have an app for iPhone and Android smart phones. The app allows us to better communicate with you throughout the week and keep you updated with relevant parish news or updates. It is a great resource for parishioners because it provides daily Mass readings, Catholic news and prayers, convenient prayer and Confession reminders, our bulletins and more.
Simply text "app" to 88202 to download the App or 
CLICK HERE
. Once installed, just pick St. Timothy Catholic Church, and access is complete.