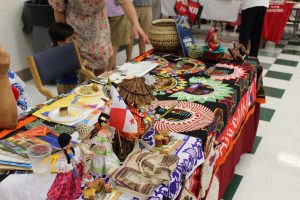 Multi-Cultural Celebration Meeting
Sunday, April 29 at 12:15pm 
in St. Barnabas Room
YOU ARE INVITED to join us in the St. Barnabas Room (located across the hall from the Adoration Chapel) as we discuss this year's Multicultural Celebration. Become part of our Pentecost Sunday, May 20 Multicultural Celebration. Last year we represented Brazil, Colombia, Cuba, Ecuador, France, Germany, Guyana, Haiti, Hungary, Ireland, Italy, Kenya, Lithuania, Mexico, Nicaragua, Panama, Paraguay, Peru, Philippines, Poland, Puerto Rico, and Trinidad, & USA. This is a wonderful opportunity to meet and help our St. Timothy parish family proudly share their heritage.
It's easy to become involved in this wonderful experience. We supply each country with table, chairs, etc… and you can either join others already representing a country or help us create a new table introducing your country. This is a fun way to celebrate our parish family cultural diversity and meet new people! The event includes Live Entertainment, an "All American" Picnic lunch, and activities in the Youth Center.
Contact Burnita at 813-417-3046 or 
burnitaw@gmail.com
 for more info or for volunteer opportunities before & during our upcoming parish event. There is something for all ages.