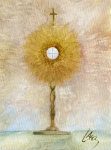 Please join us on Saturday, June 10, as we celebrate the Solemnity of the Most Holy Body and Blood of Christ (Corpus Christi).
The Eucharist is the source and summit of the whole Christian life. The feast of Corpus Christi is a celebration of Christ's Real Presence in the Eucharist. It parallels the celebration on Holy Thursday in commemoration of the institution of this sacrament. When the Eucharist is carried through the streets in solemn procession, the Christian people give public witness of their faith and devotion toward the sacrament of the Eucharist.
The Sacrament of the Eucharist is a sign and cause of the unity of Christ's Mystical Body because it stirs up an active "ecclesial" spirit in those who are fervent in their Eucharistic devotion. Eucharistic adoration cannot be detached from the liturgical and communal celebration of the sacrament or from the commitment to the poor and to justice. One draws strength and justification from the other.
Directly after the 9 am daily Mass in the Holy Family Chapel, Fr. Blum will expose the Blessed Sacrament. Adoration will take place until 10:30am. At that time, a procession of the Blessed Sacrament around the parish campus will take place.
During the procession, the rosary will be prayed. The procession will conclude back in the Holy Family Chapel where Benediction will conclude our time of prayer together.
We pray that you will be able to join with others from our faith community that morning.