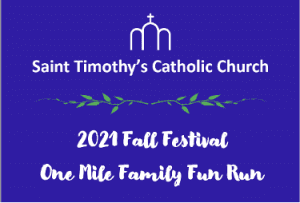 THE FALL FESTIVAL RETURNS ON OCTOBER 23RD!!!
And so does the in-person Family Fun Run/Walk!  This year you have a choice:
Saturday, October 23rd In-Person – One Mile Fun Run with Fellow Parishioners on the church grounds starting at 8:00 a.m. The course consists of a one-mile loop around St. Tim's Church and Mother Teresa of Calcutta School grounds (like 2019's event).  Post-run fruit and refreshments provided!!!
Virtually between now and October 31st.  If you aren't available to join us on October 23rd, you may do your own run/walk at a date/time convenient for you.  Basically, gather your family, select a one-mile route, wear our specially designed t-shirts, and run/walk as fast or as slow as you want.  It's that simple!
ALL CAN PARTICIPATE!
Both the in-person and virtual events will help our parish community "come together" to participate in a positive, healthy event.  All are welcome – runners and walkers, young and old, fast and slow!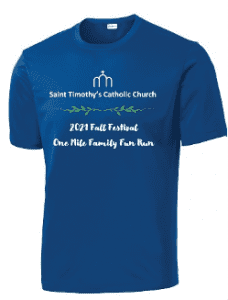 T-SHIRTS FOR A NOMINAL COST OF $3.00!
Thank you to our sponsors who defrayed most of the cost of the t-shirts!  Sizes available from Youth X-Small to Adult XXX-Large ($1.50 additional for Adult XX-Large and XXX-Large).  The t-shirts are polyester dry-fit shirts from the same supplier as the past years' Fall Festival Fun Runs.  After registration closes promptly on 9/30, we must immediately place a t-shirt order to allow you to have your shirts for the event.  We will distribute t-shirts:
October 23rd starting at 7:00 a.m. at St. Timothy's Church before the in-person run/walk.
Before and after all masses on Saturday, October 23 and Sunday, October 24 in the Church Narthex.
If you have any questions, please contact the Event Co-Chairmen:  Roger Caruso, 813-767-0071, mrmrcaruso@msn.com or Deacon Glenn Smith,  813-968-1077, deaconsmith@sainttims.org.