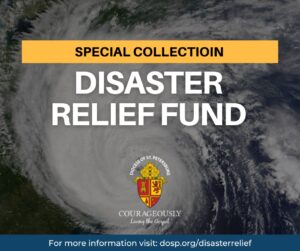 The Diocese of St. Petersburg is helping people affected by Hurricane Ian. Bishop Gregory Parkes is asking all parishes and missions in the Diocese of St. Petersburg to hold a special collection for Disaster Relief in October.
One hundred percent of the disaster relief funds will benefit people and the Church affected by natural disasters, including those impacted by Hurricane Ian in our own Diocese.
Since 2017, the Diocese of St. Petersburg has donated over $1 million for disaster relief. Thank you for your generosity toward those attempting to rebuild their lives following catastrophic events, such as Hurricane Ian. For more information,
click here.