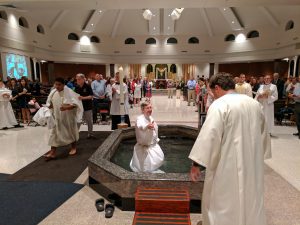 The 2017 Stewardship Renewal is underway! This weekend, November 4th&5th, is our Commitment Weekend — a time when all parishioners are invited to take a step forward in faith through making commitments to God and our parish.
Each year, God calls us to give of ourselves in new ways. How is God calling you to give of your time, talent and treasure this year? Pray about it, then make firm commitments to Him by filling out and returning your commitment card. Even if you participated in our Stewardship Renewal last year, we invite you to commit yourselves anew.
Completed Commitment Cards may be given as an offering during the Masses this weekend, while those without a card can complete one at Mass. If you are not able to come to Mass this weekend, simply mail your card to the parish office, bring it with you the next time you come to Mass, or fill one out online by clicking this link:  2017 St-Timothy Commitment Card
Our goal is to be a stewardship parish — noticeably committed to prayer, parish ministry, and generous financial support. As part of our Stewardship Renewal process, it's important to make your commitments every year.
Thank you for re-dedicating yourself to being a faithful steward of God's gifts! God bless you!
See more by clicking here.