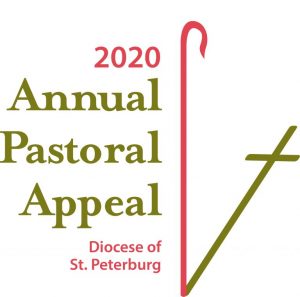 We Support the 2020 Appeal
The Annual Pastoral Appeal (APA) is a direct appeal to the parishioners of the 80 parishes and missions of the Diocese of St. Petersburg, asking to directly fund diocesan ministries, services and programs. Our theme this year is WE ARE SALT & LIGHT. As baptized individuals, as a parish and as a diocese, by supporting the good works done in the name of Jesus Christ as joyful stewards, we are Living the Gospel through the Annual Pastoral Appeal.
There are several reasons why our parish supports the Annual Pastoral Appeal:
APA is an opportunity to share our gifts in support of our parish and our diocesan community, in the name of Jesus Christ. It is an effective and cost efficient way to provide necessary services for our parish, as well as offer ministries and programs which outreach outside of our parish boundaries.
Every gift, every prayer, and every sacrifice is welcomed with gratitude, used with great joy and good stewardship, and brings hope to someone seeking the love and mercy of Christ.
For each dollar raised through the appeal, a dollar is removed from the amount owed for each individual parish's assessment. This means more offertory dollars remain in the parish to support local operations.
We hope and pray all our parishioners will join us in supporting the 2020 APA!