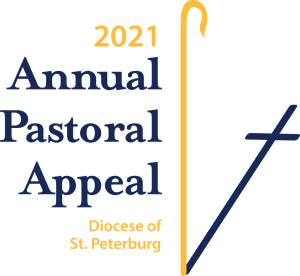 Bishop Parkes has mailed all parishioners an invitation to participate in the 2021 Annual Pastoral Appeal (APA). Please review the brochure that comes with the mailing and learn more about the good works of our local Church made possible by APA.
This year the theme for APA is: Hope in the Lord, a message that states who we are and how our hope gives us strength. In the last year, our parish has witnessed the saving grace hope can be when faced with immense difficulty. Our people have demonstrated that by refocusing on our hope in our Lord, we can all make a difference to someone less fortunate.
Giving to the Annual Pastoral Appeal is an additional way we can extend hope to others. Through APA, we reach beyond ourselves and our parish, and extend hope to thousands through the ministries, programs and services that enrich a Christ-centered way of life. To learn more about how our diocesan ministries continue serving in Christ's name, visit our diocesan website at www.dosp.org or follow our diocese on social media @DioStPete and discover something new about our local Church outreach.
Together, let's pray that the Holy Spirit will guide our journey and bestow His grace upon us as we extend that hope to others. Our parish Commitment Weekend is on February 13 and 14. Please bring your commitment card from home or pick-up an in-pew pledge envelope at Mass and come prepared to participate and courageously be part of the Good Works of our diocese.