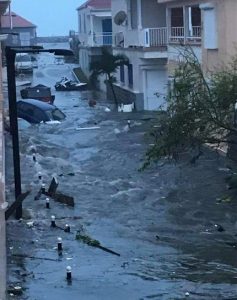 So much of the gospel speaks to putting the needs of others before ourselves. For example, "Jesus said to them, 'You know that those who are recognized as rulers of the Gentiles lord it over them; and their great men exercise authority over them. But it is not this way among you, but whoever wishes to become great among you shall be your servant; and whoever wishes to be first among you shall be slave of all'" (Mk. 10:42-43). Or. "Do nothing out of selfishness or out of vainglory; rather, humbly regard others as more important than yourselves, each looking out not for his own interests, but also for those of others" (Phil. 2:3-4).
I'm not sure the Christian community did a particularly good job of this during the recent hurricanes. Look at what we asked for in our prayers. Some prayed for the storms to stay out in the Atlantic. Others, most others I suspect, prayed to be spared the worst of the storm – a prayer which basically said, "Spare me, my friends and family. Let the storm hit someplace else!"
To put it bluntly, we didn't want to be anyone's servant and we certainly didn't want to put the interests of anyone else ahead of ours.
I wonder if the gospel is calling us to something different – something radically different. What if, days before the storm struck the Caribbean islands we had prayed this:
Father God, I don't know your mind. I don't understand why hurricanes are a part of your creation and I don't know in what ways you control their paths. I do know that this storm is strong and could cause a great deal of damage. If it is your will, Father, turn this hurricane so that it misses land, especially the islands in the Caribbean. But if this hurricane must hit some land mass, let it hit us. It will be hard but we have the resources to recover. Those in poorer countries don't have those advantages. Spare them, Father. Let us bear the brunt of this storm. Amen.
I didn't pray that prayer prior to the storm hitting the Islands. It didn't even enter my mind. I don't even know if I will have the courage pray like this when the next serious storm forms in the Atlantic. But Paul writes, "Let the same mind be in you that was in Christ Jesus" (Phil. 2:5) and there's no doubt that Jesus would pray like this. So, hard as it might be, I need to do as well.