<<<St. Timothy Youth Ministry>>>
2020-2021 Strategy
2021 Confirmation Interview Sign Up
All 2021 Confirmation Candidates will have an interview with Mr. Justin and Mrs. Jen. CLICK HERE to look over the open dates and times to determine which one works best for you. Parents are not required to attend the interview, but are always welcome to wait in the lobby! Please email Jen Linder at jen.linder@sainttims.org with any questions or concerns.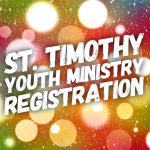 St. Timothy Youth Ministry is moving forward with a strategy that allows students to meet on campus at St. Timothy with protocols in place or allows them to meet virtually through Zoom. Students will have these two options for our Fall Semester and we will reevaluate what our Spring Semester looks like. We have also changed our start dates and parent meeting dates for our Fall Semester.
Youth Ministry is a place for students to gather as a community of peers, enjoy fun activities, and continue grow in their relationship with Christ as His beloved disciples. We encourage all of our students 6th-12th grade to grow in their faith in our Youth Ministry program. It's our responsibility as parents to give this opportunity to our children in this lifelong journey with Christ as His disciples. At St. Timothy we students in 10th grade receive their Confirmation and require a two year prep. Youth Ministry is required for our 9th and 10th graders to prepare for Confirmation but we know how important Youth Ministry is for all of our students, in fact we are called to a life of formation and transformation in our faith. Please refer to our options below and register them by clicking the links below.
HIGH SCHOOL LIFE TEEN STUDENTS
LIFE TEEN Parent Meeting: Sunday, September 13th 6:30pm
LIFE TEEN Fall Semester Kick-Off: Sunday, September 20th 6:30pm
OPTION 1: On Campus- Join our Live LIFE TEEN Youth Ministry Life Night on Sunday evenings from 6:30pm-8:30pm following our 5:30pm Mass. We will not require students to wear a mask, however it will be encouraged. We will separate students into smaller sizes to eliminate large gatherings of students in smaller spaces.
OPTION 2: Virtual- Join a dedicated LIFE TEEN Discipleship Zoom group that will meet once a week. These group will be led by our Adult Mentors. They will engage in some fun zoom activities, utilize video teachings, have discussions around those topics, and pray together. These groups will decide along with their mentors what day and time is best for them to zoom weekly. As of now this option will be used for our Fall Semester and we will reevaluate if we continue this option in January.
9th & 10th Grade Students Preparing For Confirmation:

·     75% attendance to either On Campus Life Nights or Virtual Zoom Groups to complete their requirements for Confirmation preparation.
HIGH SCHOOL LIFE TEEN & CONFIRMATION FAITH FORMATION
If you have already registered you should receive an email within the next week asking which option you would like for your student.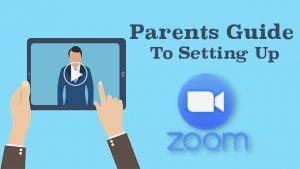 Zoom Links Emailed To Parents Enrolled In Youth Ministry & Posted Daily On Youth Ministry FACEBOOK GROUP:  St Tims Life Teen
If you would like to enroll your student and are not receiving our zoom links please email
Jen.linder@sainttims.org
.  Note: many of our emails may be in your junk mail, just search your junk mail for St. Timothy Youth Ministry.
Youth Ministry is transitioning to meeting online with students. We are doing this primarily in Zoom meetings. We are working very hard on these gatherings to make them interactive, fun and engaging to keep them growing as a disciple during this time being locked-in. We want all of our students Middle and High School to log-in and join us. Please encourage your child to join us online and hopefully make it a priority for them to continue to grow in their faith.
How To Set Up Zoom Meetings:
This is where we will meet daily with students. As the host, Justin Lantz will have full access to mute students' video or audio, allow students to join the group, and the group will end when I exit the meeting. Each Zoom has at least two safe environment trained adults.  It is a safe way for our group to meet and allows us to continue to build our community during this time.
To Join on Phone:
Follow the link sent out via our emails, Facebook Group or that can be found on our Instagram page that says, "Join Meeting."
The link will prompt you to download Zoom. You do not need an account to join. There will be a prompt to put your name in once the meeting starts. We ask students to put in their name and grade number.
Once downloaded, click the "Join Meeting" button and enter in our meeting ID (last 9 numbers on the link) found in the email, FB or Instagram, OR, re-click the link sent out then click "Join Meeting."
This will lead you to the meeting and place you in the Waiting Room until the host admits you into the video meeting.
Please be sure to go through our zoom etiquette with your student.
To Join on Computer:
Follow the link sent out via our email or Facebook group or on the Instagram page that says, "Join Meeting."
A tab will open up and a download will start for the Zoom program.
Once downloaded, a screen will pop up to prompt you to allow video and audio. Click "allow."
This will lead you to the meeting and place you in the Waiting Room until the host admits you into the video meeting.
Please be sure to go through our zoom etiquette with your student.
Note:
All downloads are free, and you do not need to make an account if you do not want to. All you need is the link for the meeting.
Please make sure you are able to use the audio on your device.
You may need to manual give the app permission in your phone settings.

Justin Lantz- Parish Youth & Young Adult Minister
Jen Linder- Coordinator of Youth Ministry
jen.linder@sainttims.org