HIGH SCHOOL LIFE TEEN YOUTH MINISTRY FAITH FORMATION REGISTRATION 2023-2024
All registration is online, however, we do require physical, notarized medical forms to be turned in ASAP to allow students to participate.
For your convenience,  we have a notary at the Church office or at the Youth Center.
Confirmation Packet 2023-2024 Coming Soon
Parent/Student Confirmation 2023/2024 Orientation
Confirmation Candidates and a parent are required to meet for a 20 minute interview to go over the expectations, dates and paperwork for this important sacramental year. Please sign up for a day and time that works best for your family. We will meet in the YOUTH CENTER on the campus of St. Timothy.  *Please bring a copy of the candidate's Baptismal Certificate if not made at St. Timothy.
Orientation Sign Up Link Coming Soon.
Every High School student at St. Timothy should be registered for our 2023-2024 Youth Ministry and Faith Formation. We believe that when a teenager encounters Christ through the beauty of the Catholic faith, they will transform their parish, community, and culture. Teenagers today are a lot different than teenagers from 20, 10, or even five years ago. As teen culture changes and evolves the way we present the timeless truth of the Catholic faith needs to evolve, as well. LIFE TEEN is responsive, innovative, and engaging. We empower a team of Catholic adults to accompany young people as disciples. It's fun and relevant. Students will be able to access our amazing Youth Center and gym as they build community and friendships with other fellow Catholic students. Also, does your Youth need Confirmation? In order for your Youth to be Confirmed this year (2024) they must have attended Catholic Faith Formation the previous year (2022-2023) and be entering at least 10th, 11th or 12th Grade. We realize sports and other extra curricular activities get in the way occasionally on Sunday nights but registering students gives them access to all our activities throughout the year including trips and retreat. Not only that but parents will also receive amazing online tools, resources and support groups that are sure to help you as a parent. So parents please register today!!!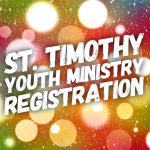 Youth Ministry is a place for students to gather as a community of peers, enjoy fun activities, and continue grow in their relationship with Christ as His beloved disciples. We encourage all of our students 6th-12th grade to grow in their faith in our Youth Ministry program. It's our responsibility as parents to give this opportunity to our children in this lifelong journey with Christ as His disciples. At St. Timothy, students in 10th grade receive their Confirmation and require a two year prep. Youth Ministry is required for our 9th and 10th graders to prepare for Confirmation but we know how important Youth Ministry is for all of our students, in fact we are called to a life of formation and transformation in our faith. Please register them by
clicking the link
.
Justin Lantz- Parish Youth & Young Adult Minister
Jen Linder- Coordinator of Youth Ministry
jen.linder@sainttims.org