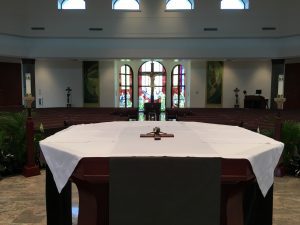 "For our gospel did not come to you in word alone, but also in power and in the Holy Spirit and with much conviction." (1 Thes.1:5). This past festival weekend has been a great witness of the power of the Holy Spirit and much conviction. I am grateful for the many volunteer hours that were given for the success of our Fall Parish Festival. Each year the festival creates a great environment on our campus. It takes a whole community working together, and coming together to celebrate, to raise the level of success. We are each called by name by God. He has a unique mission and plan for each of us. If we desire to discover that plan, we have to follow his plan for us.
Here are a few points I can recommend with the acronym "ACTS."
A – Appear – show up for church, and activities that God calls you to attend.
C – Communicate – look for ways that the Good News is being shared with you, and discover ways you can share the Good News (Gospel Message) with others.
T – Thanksgiving – Each day make a gratitude list. Start simple and basic.
S – Service – Look for any opportunity for service (anywhere). Practice kindness.
In the Acts of the Apostles – there are many distinct actions that helped the early Christians grow and thrive in the most difficult of times. If you would like the gospel message to grow in you and your household, try this "ACTS" acronym (Appear, Communicate, Thanksgiving and Service). Our second readings speaks of power, Holy Spirit and much conviction. Are you interested in that? Ask the Lord for these gifts.