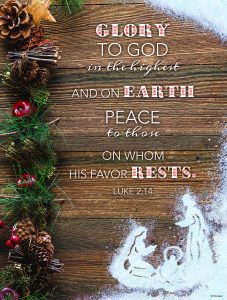 We Have Some Gifts For You – Come And See!
If you are just visiting St. Timothy Parish or coming to a Catholic Church for the very first time, I want you to know that I am very glad that you are here: God's heart delights even more. For our current members, I pray that you feel comfortable inviting your friends, family and neighbors to our Church. At Christmas we celebrate the Good News of Jesus Christ and his message for the whole world. We are the ones who are invited to be His messengers.
Right before Christmas we had an outdoor movie night at the Youth Center. We started the evening with Charlie Brown's Christmas Story. Charlie Brown wanted his friends to know the "true meaning" of Christmas. After the movie, Fr. Kevin and our Youth Minister Justin Lantz passed out bibles to all our families that were present. Fr. Kevin asked the kids to read the Charlie Brown proclamation to their families, which he said he memorized in junior high. I invite you to read the Christmas Proclamation in your house during the Christmas Season – Luke 2:8-14. Together, with the multitude of angels, we can be the ones to sing "Glory to God in the highest, and on earth peace to those on whom his favor rests."
After Christmas, I have some books that I would like to give out. I purchased 1,500 books that I would like to give out in the parish. The title of the book that I would like to share is "The Four Signs of a Dynamic Catholic." The message of Jesus Christ is a message that can radically change our lives and have a positive impact in our world and in our culture today. If you want to grow as a Dynamic Catholic, this is the place to be. We are blessed. Here are a few upcoming events that I would like to highlight  (invite a friend or just come yourself).
Mon, January 8th Men's and Women's Club Meeting – we always like having food.
Fri, January 12/Sat, January 13th Ministry Leaders and Supporters Retreat. RSVP Needed.
Sun, January 14th Country Style Breakfast after morning masses in our Parish Hall.
Fri, January 26th Feast of St. Timothy. Dedication Concert for our new Pipe Organ.
Please come back to see some of the gifts and blessings that we have to share with you and your families this season, and this New Year.
Have a Blessed Christmas Season,
Fr. Kenneth Malley