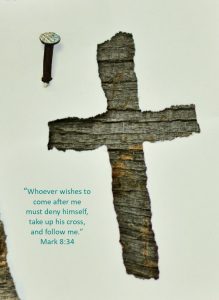 I am looking forward to my trip to Rome next week (September 22-30). I will be traveling with 20 parishioners, and meeting some parishioners in Rome – to celebrate the diaconate ordination of Ralph D'Elia. The last diaconate ordination I attended at St. Peter's Basilica in Rome was my own in 1996. The North American College (where Ralph lives) has doubled in the number of students since I was there. Ralph will be ordained a priest here in our diocese on May 18th, 2019, and we will have his first mass celebration here on Sunday, May 19th at 11:00am, with a good party to follow.
Whatever our vocation is, we are each called to turn to the Lord to be our strength. In our first reading today from the prophet Isaiah, we hear about a "suffering servant." In the midst of suffering and abuse, Isaiah responds "The Lord is my help, therefore I am not disgraced; I have set my face like flint, knowing that I shall not be put to shame." When we allow the Lord to be our strength, we experience a profound source of support; we connect with an energy that we know is not our own. It can be exciting and exhilarating. However, we can only connect with his "perfect strength," when we surrender our own strength.
I would like to highlight a recent resource that I received in the mail. It is the "2019 Catholic Religious Vocation Discernment Guide."  I will leave a copy in the church narthex, by the Ambassador table.  You can also check their websites – VocationNetwork.com or VocationMatch.com. The front of the magazine this year says – "Invite God into the Conversation." Check out the listing of men's and women's religious communities, missionaries, religious brothers, religious sisters, consecrated life, and priesthood. Each person has a unique and individual call. It is a blessing for our parish when we can help individuals discover their call. The Lord is our help and He will be our help for many ages to come.
Peace and Blessings,
Fr. Kenneth J. Malley
PS- Our diocesan vocation link is https://www.dosp.org/vocations/. We have our own vocational discernment weekends. If there are any women that would like to visit a religious order for a discernment weekend, let me know, and I will pay for your travel to visit.