"I Am With You Always."
The days of the Easter Season will soon be coming to an end. We have celebrated a beautiful season together. Next weekend is Pentecost Sunday and then we are back to Ordinary time, and the Easter decorations are coming down. However, I pray the Easter graces may continue to take root, and deepen in our hearts and homes.
Today as we celebrate the Feast of the Ascension of the Lord, we recall the time when Jesus Ascended to the Father. We also are reminded of the words that Jesus spoke to his followers – "And behold, I am with you always, until the end of the age." Mt. 28:20.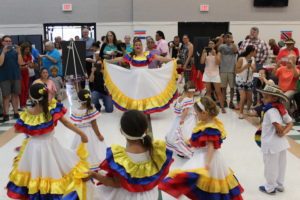 Last weekend, we celebrated our Multi-Cultural Festival. There was great joy at this event as we celebrated the many diverse cultures, languages, foods, music and decorations for our own parishioners. I would like to continue to celebrate this in our community. Next week as we celebrate Pentecost, we celebrate the time when people of diverse languages and diverse backgrounds were united; beginning to understand each other by the power of the Holy Spirit. May the Holy Spirit Fall Afresh upon us as we grow and mature together. We are blessed by each other. We are part of the family of God and we are enriched in our encounters with each other. Each member is important. We are all part of the the body of Christ and each member has a unique role. At this time of the Feast of the Ascension and Pentecost, we are reminded that we are not left alone to figure this out by ourselves. The Holy Spirit, the Paraclete will be given to us, to teach us and guide us in the Way, the Truth and the Life of Christ.
Peace and Ascension Blessings,
Fr. Kenneth J. Malley