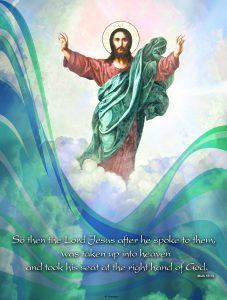 When Jesus ascended to heaven, I am sure the disciples still had many questions. Jesus told them that there was more to learn. Pentecost, which we celebrate next weekend, is when the Holy Spirit was given to the disciples. They began to speak in new languages, and they were filled with a new zeal for service and mission.
It is important to remember, the same followers (of Jesus) that remained hidden behind locked doors during the crucifixion, were the same individuals that were sent out as missionaries to the world. Jesus instructed his followers – in the final chapter of Mark – "Go into the whole world and proclaim the gospel to every creature." (Mk.16:15-20). The early followers of Jesus were transformed by the power, and love of the Holy Spirit. In today's gospel, the signs that are mentioned include an ability to cast out demons. Yikes. However, this is needed more now than ever. "They will pick up serpents with their hands, and if they drink any deadly thing, it will not harm them,. They will lay hands on the sick, and they will recover." Pray that our community may be filled with God's Spirit of healing and grace.
Today, we also celebrate Mother's Day. Thank you Lord for the gift of our Mothers, living and deceased. We remember you today. If you are able, come and join us for a Full Country Breakfast in our Parish Hall after all our morning masses. I am grateful for all who come to serve at breakfast. Service is a key component in our formation as Christian disciples.
Peace and Ascension Sunday Blessings,
Fr. Kenneth Malley
PS – Next weekend, (May 20th @ 12:15pm) join us for our Multi-Cultural Celebration. We are a community rich in diversity. The world Catholic is derived from the Greek word – katolicos, which means universal.