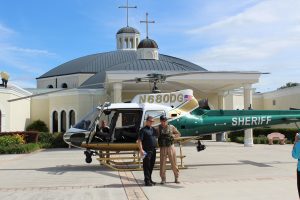 I would like to give thanks to God for the great success of our Family Fall Festival last weekend. The weather was outstanding and all the events seemed to go so well. The volunteers put in countless hours of service for this festival, and I am delighted that so many were able to turn out for the festivities. I would like to offer a huge thank you to Al Murano , Burnita Wilder, Lisa Talmo, to our parish staff and to many volunteers who worked so hard for the success of this festival. I believe that our faith community grows when more individuals are involved with service opportunities around the parish; it cultivates a sense of a "home parish."
One image that stands out for me from last weekend is the helicopter that landed in our courtyard. It was an impressive landing, and it drew the attention of many. The winds picked up as the helicopter landed and all things were caught up in the landing of this amazing piece of equipment that came down out of the sky. I also pause to remember the power of the Holy Spirit that comes down from the heavens. The power of the Holy Spirit is greater than the winds of the Helicopter landing in our courtyard. The power of the Holy Spirit can stir up great joy in our hearts, even in the midst of great afflictions.
For those who call St. Timothy your "home parish," I pray that you may receive all the benefits of being a parish member. Be assured of our prayers throughout the week, at our daily mass and also during the times of Adoration in the chapel. Prayers make a difference. Keep on doing the right thing, and the right thing will happen. The main question is posed in today's gospel. What is the greatest commandment? Nice and simple – go back to the basics – Love God – Love your neighbor. So simple – but it needs daily commitment and practice.