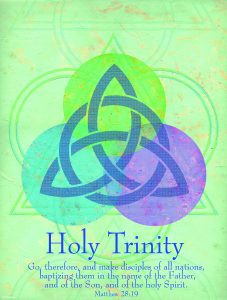 Welcome as we gather on this beautiful Solemnity of the Most Holy Trinity. When we enter a Catholic Church and bless ourselves, and before we start our prayers, we begin with the sign of the cross (the sign of the Trinity). We make the sign of the cross on our body (mind, stomach, and shoulders). This is a profound gesture that can get lost, or neglected in our use.
We begin in the name of the Father, on our forehead and on our mind. May the blessing of God the Father, creator of the heavens and the earth, order the thoughts of our minds. We pray in the person of the Son, as we mark our belly or stomach. May the Lord of all creation strengthen us so we may be able "to stomach" our call in Christ with courage and bravery. May the Lord bless our stomach and help us to reverence the sustenance we receive, to be grateful and not to abuse or overuse the resources of the earth. "And of the Holy Spirit" – we mark and sign our shoulders. May we shoulder the burden of our vocation with the grace and strength that comes from the Holy Spirit.
We sign ourselves with the seal of the Holy Trinity. It is an action of our prayer, and a process of our spiritual growth. The mystery of the Holy Trinity is challenging to comprehend. It is better that it is revealed to us over time, in the receptivity of our hearts. It is the on-going relation of the three, united as one. Three distinct persons, yet one God. It is a mystery that we most likely will not comprehend, but one that will be fully revealed in the heavenly kingdom of God. It is the union, yet the distinctness of each one. May we feel that connection today.  A divine union, distinct and unique.
Peace and Trinity Blessings,
Fr. Kenneth J. Malley