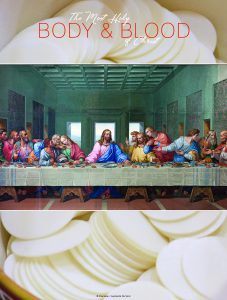 Today we have one more big celebration before we are back to Ordinary Time, and our Summer Season. Today we celebrate the Solemnity of the Most Holy Body and Blood of Christ. We made it through the Easter Season, Pentecost and Trinity Sunday. This weekend, we are guided into our action plan, for the "on-going" celebration of the Body and Blood of Christ.
It is a joy to see our students receive their First Holy Communion. Every year I believe they can be the best teachers, to remind us how we are to prepare, and to receive the Most Holy Body and Blood of Christ. They are very deliberate and intentional when they come to participate at mass. The original Passover, celebrated by the Jewish people, was also deliberate and intentional. On the night before their departure from slavery (Egypt), the Israelites were instructed how to prepare, and how to eat the meal. It was a tradition that was passed down through the ages. On the night before Jesus was crucified for our salvation and freedom, he shared the Passover meal with his disciples. However, there was something different about this Last Supper. Jesus was to become the Lamb of Sacrifice: a sacrifice done once and for all. By His blood we are redeemed.
We have a action plan to follow. It is deliberate and it is intentional. When we participate in the meal, the Eucharist, we enter into a new life of freedom. He gives his life for us so that we may have life. This is not a gift to be taken for granted.
Peace and Summer Blessings,
Fr. Kenneth J. Malley
End of Fiscal Year and Summer Planning
I just wanted to add a note for the end of fiscal year, which we finish this month. I thank you for all your support this year. If there is any "year end giving" you would like to do, please consider donating to the diocesan Annual Pastoral Appeal. For those that are 70.5 and above, with an IRA account, there is a non-taxable charitable contribution that can be made from your mandatory distribution. If you have any questions, please call our office, or Larry Schinsky (parishioner) for more details (813-774-1222).
For our Regular Offertory, consider "on-line" giving, or through your own on-line banking system (for any office support or questions call 813-968-1077, Brian Smith or Julie Acker).  On this weekend of Corpus Christi, we learn from the "self-giving" of Christ. He is the model for us. The Lord is never outdone in generosity. When we are generously giving, we are also generously receiving all that the Lord desires to share.