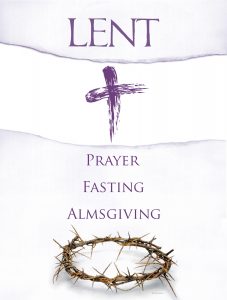 On March 22 at 7:00pm we will have our Parish Lenten Penance Service. We will also advertise the penance services in our local parishes that we will be assisting. We work together with other local clergy to provide more opportunities for the Sacrament of Reconciliation. It is good when we are able to work together. It encourages the elements of prayer, fellowship and service.
Our gospel this week is from John 2:13-25. Jesus enters the temple area to find it cluttered with vendors and money changers. His human qualities manifested here as he turned the tables over in the temple area and made a bold cry – "stop making my Father's house a marketplace." Zeal for the Father consumed him. The temple area is a sacred place. Our own bodies are temples of the Lord. When we prepare for the Sacrament of Reconciliation, we examine our lives. Who or What is an obstacle of Grace for you? Recall your own thoughts, words or deeds. Where do you need healing? In a liberating way, Jesus would like to free us from the things and the memories that infect our lives and our souls.
Prayer, Fellowship and Service are powerful tools to practice during Lent. When we discover how effective they are, we may even want to practice them during the year. Fellowship in Faith is critical. There are too many elements in our world that allure people away from a life of faith. Service strengthens our faith. When we seek to serve others, it fills us with a spiritual energy and vitality that enlivens our faith and the faith of others around us.
Peace and Lenten Blessings,
Fr. Kenneth J. Malley
PS – Keep your Lenten eyes open for opportunities of Prayer, Fellowship and Service. We have all of these at our Lenten Friday Nights in the Parish. Come and See!