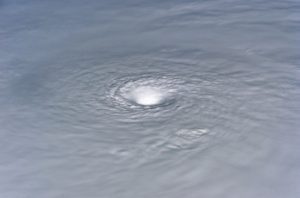 "We Too Can Gain Strength"
This week we have so much to be grateful for and we have so much to pray for. Our area was spared from a powerful hurricane. We were spared from a direct hit of the potentially most historic storm in our history. I believe there is a great deal that we can learn through this whole process.
Emergency Management Teams will be reviewing the procedures and response efforts for years and decades to come. We have the tools to monitor the movement of the storms in the Atlantic and we have the resources to communicate a fair warning to all who would heed the message. Last week was an intense exercise for all of us on our Emergency Management Preparedness. We prepare for the storms, even the worst of storms. I heard on one news report that we "prepare for the worst and we hope for the best." As a people of Faith, we pray for the best.
"Spiritually" we face storms and tempests every day. In following the traditions of our Faith, we are able to endure whatever storm that comes. In our neighborhoods, people boarded their windows, filled their houses with extra food, water, batteries and extra resources. Spiritually, we are fortified when we follow the Ten Commandments and when we are involved with the Sacraments of the Church: just these two fortify us. We also have the Corporal and Spiritual Works of Mercy (you can google). In the time that follows Hurricane Irma, we can learn a great deal from our response efforts. In your review of the response efforts to this storm, I invite you to review your response efforts to the spiritual storms and temptations (tempests) that you encounter. We have a great deal to learn from each other, and gain strength from one another. Our Faith is strengthened when we practice it. We just need to "keep on practicing."
Peace and Blessings,
Fr. Kenneth J. Malley