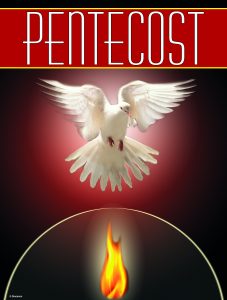 This week I invite you into a Pentecost Prayer – "Come Holy Spirit" (three times). At the time of Pentecost, the Spirit of God came upon the followers of Christ in a unique and a powerful way. They tried to put the experience into words, however, words could not describe the full power of the experience.
We have some descriptions of the Spirit of God as – a mighty wind, a burning fire, a breath of God, a gentle breeze. Have you ever experienced the power of the Holy Spirit? Maybe you already have, but you may not have realized it? I invite you to try to recall a time when you felt the presence of God. We can also ask our young children, what does the Spirit of God, in us, feel like? It is important for us to articulate our experiences with God in speech or in writing. If we do not acknowledge our encounters with God, they can easily pass, or fade away without any recognition.
Today (Sunday), we are blessed to celebrate our Multi-Cultural Gatherings. This is the perfect weekend for this gathering. We celebrate the many languages, and the rich diversity of cultures that are present in our community. On this Pentecost Sunday, we gather with our rich diversity of gifts, talents and lives. We are united by the Lord, and the Spirit of God, which connects us all together. Like the image of the pipe organ with many pipes, when one console unites them all, they form a symphony of sound that can fill our house with beauty and awe. Thank you for being part of this household. The vitality of our community grows with the involvement, and contributions of each new member.
Peace and Pentecost Blessings,
Fr. Kenneth J. Malley
Congratulations to our 84 newly Confirmed students, and 113 First Communicants. I offer a sincere thank you – to all our fantastic catechists and Faith Formation leaders. Job Well Done!