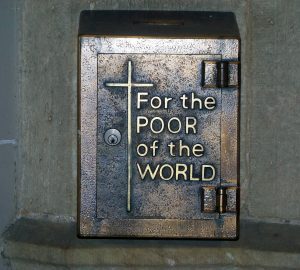 On September 27th, we celebrated the feast of St. Vincent de Paul. We are blessed to have a fantastic local St. Vincent de Paul Society in our parish. It is amazing how this society has grown into an International Support group. It was actually started by a group of young adults in Paris. The St. Vincent de Paul Society was started by Frederic Ozanam a college student at the time. He was able to organize other students in Paris. He used the inspiration and writing of a saint from the 1600's named Vincent de Paul.
St. Vincent de Paul wrote that there is no lack of charity, only organization of charity. The St. Vincent de Paul Society has a mission to organize and mobilize charity throughout the world. In our own local chapter, we have a food pantry and we also have a great team who go out to meet individuals and families in need. This is a generous parish and we have been blessed. I am extremely grateful for all our volunteers who assist in our St. Vincent de Paul Society. They offer countless hours of service and support to people in our parish boundaries and beyond.
Our second reading this week is from St. Paul's letter to the Philippians (ch.2) – "If there is any encouragement in Christ, any solace in love, any participation in the Spirit, any compassion and mercy, complete my joy by being of the same mind, with the same love, united in heart, thinking only of one thing." That is a long sentence; basically, unite in mind, heart and mission in Christ. Our theme this year is "Lift Up Your Hearts." I pray that we can unite our hearts for the mission of Christ. I am grateful for our new Oratory and Faith Formation space in our parish center. Come and see this space that has been created for you. Fr. John will be writing some articles to share more on this space we call our Oratory.