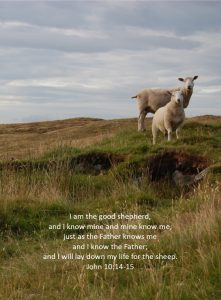 The one way to peace, and the one way to salvation is through Jesus Christ. In the last line of our first reading today (Acts 4:12) we will hear "there is no salvation through anyone else, nor is there any other name under heaven given to the human race by which we are to be saved."
This Easter Season (50 days) we are invited to remember, and to celebrate the gift of the Risen Christ in our lives. We are given the gift of Eternal Salvation by calling on the name of Jesus Christ; the one who was rejected but now is the cornerstone of our Faith. We are reminded in the second reading (1 John 3:1-2) that the world did not know Jesus.  "The reason the world does not know us is that it did not know him."
It is essential that we gather as an Easter People to re-tell the story of the risen Christ. We are invited into a relationship with Christ, which is more than just a knowledge about him. We ponder how he laid down his life for us. Jesus said – "No one takes it (life) from me, but I lay it down on my own. I have power to lay it down and power to take it up." (ref. John 10: 11-18). The model is given for us to lay down our lives for others. We are called to live with Christ as the cornerstone of our lives. We practice calling on his name for our Salvation. There is no salvation without Jesus, who is the bridge and mediator between us and God.
Peace and Easter Blessings,
Fr. Kenneth J. Malley
PS – Something to ponder – Know Jesus and Know Peace. No Jesus – No Peace.