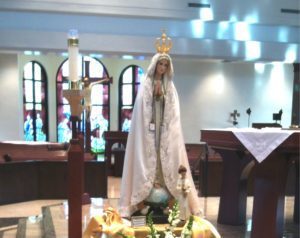 This weekend as we celebrate Mother's Day, we also celebrate the 100th Anniversary of the Apparitions of the Blessed Mother in Fatima. In 1917, Mother Mary appeared to three young children with a message of peace for our world. The three children were able to hear the message of the Blessed Mother, and they shared her message with all who would listen. I invite you to do a little research on Fatima. We are still invited to pray for peace in our world – one hundred years after the initial message of Fatima.
I would like to wish all mothers a very Happy Mother's Day. Thank you for all the sacrifices you have made for us. Thank you for the gift of life. Today as we gather as a community of Faith, we gather with Mother Church to receive all she has to share with us. My prayer for our parish is that we recognize the maternal gifts of the Church. The Church is meant to be a place for healing, and nurturing our God-given gifts. It is a place where we can grow in freedom to become true servants of God. I encourage you to seek the freedom that God desires for you, then seek ways to serve and to encourage others.
I would like to share with you some of the results of our parish work during Lent. One of our projects during Lent is to host our Friday Night Fish Fries. In working together, there was a 96% increase in the number of meals served.  This year we served 4,143 meals. Last year we served 2,115 meals. We had 105 volunteers who assisted, 16 of these were new volunteers. Forty-one new parishioners came and joined our Fish Fry with a voucher they received when they joined the parish. On this Mother's Day, I thank each of you for your prayers, your presence and your gifts that add to this household of Faith.
Peace and Easter Season Blessings,
Fr. Kenneth J. Malley
PS—Thank you to all the catechists, sponsors and team members who supported our First Communicants and Confirmandi. Well done!