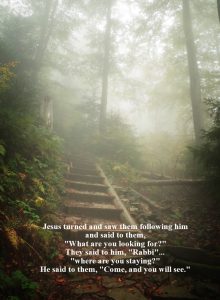 Young Samuel benefited from the wise direction of Eli. In our first reading (1 Sam. 3:3-10,19) we hear the story of Eli assisting Samuel when he began hearing God's call. Samuel was confused at first and did not understand. "At that time Samuel was not familiar with the Lord, because the Lord had not revealed anything to him as yet." That was all about to change.
Eli simply gave the instruction to Samuel "if you are called, reply, Speak, Lord, for your servant is listening." This was just the beginning of Samuel's journey with the Lord. Good thing that Samuel had a mentor like Eli to help him discover God's call. We are the beneficiaries today of his mentoring. Have you ever felt the Lord in your life? Initially, it may be difficult to recognize, however, the Lord desires to make an impact in our lives. At Christmas, we celebrate the Incarnation of Christ; he is born into our flesh, our human story. Today in our Gospel (John 1:35-42) we witness how the earliest followers encounter Jesus. Jesus was aware that he stirred their curiosity. He asked them – "What are you looking for?" As you make your New Year Resolutions, what are you looking for or hoping for this year?
We are blessed here at St. Timothy with an active community that seeks to do the will of God. Eli was able to help young Samuel respond to God's call. Eli would not have been able to do this if he had not experienced this himself. In order to assist others to listen to God's call, it is important that we listen for the Lord speaking in our own hearts. Jesus told his early seekers – "Come, and you will see." The Lord has so much to share with us; the more we are open, the more he can share.
Peace and Blessings,
Fr. Kenneth J. Malley