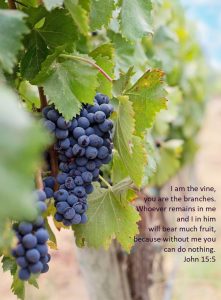 Last weekend during our youth group session, I was asked to share my vocation story. I discovered my call to the priesthood with the supportive prayers of many other individuals around me. I initially resisted the call to priesthood. Fortunately, I made the free choice to accept the gift of the Sacrament of Holy Orders. I believe God called me to be a priest, and I believe that it is "in Him" that I am able to serve as a priest and pastor.
We are blessed this year to have three new men ordained to the priesthood for the Diocese of St. Petersburg. These men come from parishes in our own diocese that have fostered in them – an authentic relationship with the Lord. Once we discover God is real, and God has a plan for our lives, amazing things occur. God has a unique call  for each and everyone of us. Today is the day to engage in God's plan for you. I invite you to give God your "yes" for today and this week. It may be helpful to pray – "God I give you permission." Allow God to live, and move and dwell in you.
I would like to offer a sincere thank you to Fr. Kevin Yarnell for his time in our parish. His last weekend here will be June 24th. Now is the time to offer a word of thanks to him and to pray for him as he goes to lead the community of Sacred Heart Parish in Pinellas Park. I also ask for your prayers for the three men who will be ordained on May 19th at the Cathedral of St. Jude. Fr. Lou Turcotte, who has been assigned to St. Timothy Parish, will begin on July 2nd.
Peace and Easter Blessings,
Fr. Kenneth J. Malley
PS – Any plans for Mother's Day? Invite Mom to our Country Breakfast on May 13th (Best breakfast in town). I am also grateful for all the volunteers who will be assisting at that breakfast. If your mom is not around, maybe sign up to help serve?