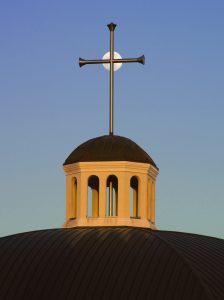 Last weekend I was delighted with the response during our Commitment Sunday. If you have not already submitted your Annual Commitment Card, I invite you to prayerfully consider submitting it this week. In our parish family we make commitments for prayer and support of one another. Every Sunday there is a mass intention for our parish members. You are the recipient of the graces of this community. Soak them up.
I believe we have the resources and talents to develop heroic witnesses of the Faith. In the newspaper and media we can hear of violence and murder all around us. We have the remedy, and it is God. It takes individuals to stand up, and to be a voice that can speak for a group of people. We can be part of that voice that can proclaim that we are "One Nation Under God." God offers a peace and a wisdom that is not of this world. If fact, the world will reject the wisdom of God. Today our first reading is from the book of Wisdom (6:12-16). "Resplendent and unfading is wisdom, and she is readily perceived by those who love her, and found by those who seek her."
In order to receive the Wisdom of God, our own house needs to be in order. Last weekend Fr. Philip Scott was the speaker at our Men's Retreat. I think it was a transformational weekend for all on the retreat. I have heard some great stories and sensed a new joy from those who attended. I have some good news for you. I have arranged to have Fr. Scott come to preach our Advent Parish Mission. It will be the first weekend of December and then he will speak Monday-Wednesday (December 4th, 5th and 6th) at 7PM. For those who were not able to get away for the retreat, we are able to bring the retreat to you.
Peace, Prayer and Much Gratitude,
Fr. Kenneth J. Malley
PS- Congratulations to our Women's Club on the success of their annual Holiday Boutique. I would like to offer my sincere gratitude to our Men's Club for their donation for our fountain in front of the church and also their assistance in funding for the garden near our courtyard. The Men's Club funded the pavers, and the Women's Club provided the funding for the landscape. Thank you for your hard work and generosity. You make a difference in our parish.