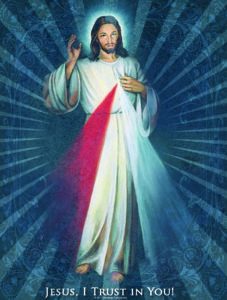 Forty Days of Lent prepare us to celebrate these 50 days of Easter Glory. The first Sunday after Easter was declared Divine Mercy Sunday by St. John Paul II. Once Jesus was crucified and died, he descended into Hell (Sheol in Hebrew, Hades in Greek). On the third day he rose from the dead. He had a mission when he descended to the dead.
Jesus went to the deepest and darkest places to seek out lost souls. He came to call all those who would recognize his voice as the voice of the Good Shepherd. For the souls that were already dead he went to open the gates of heaven; he was the long awaited Messiah and Redeemer. In our world today, Jesus Christ wants his message to extend to the farthest lands and the deepest places in our hearts that may feel separated from God. If you, or someone you know feels that they could never be reconciled with God because they have been too "sin-full," this Easter message is for them. He comes to bring to light the darkest and deadliest areas of our hearts.
If you want to know more about the Mercy of God, there are the simple A,B,C's to learn from: A—Ask for God's Mercy, B—Be Merciful, C—Complete Trust in God. St. Faustina is a great witness to the Divine Mercy of Christ. This Sunday, April 23rd at 3:PM in the main sanctuary, we will celebrate a Holy Hour for Divine Mercy Sunday. I will expose the Blessed Sacrament at 3PM and sing the Divine Mercy Chaplet at 3:30PM. If you are available, come and join us. It is a beautiful prayer and there will be some special graces on this Divine Mercy Sunday.
Peace and Easter Blessings,
Fr. Kenneth J. Malley