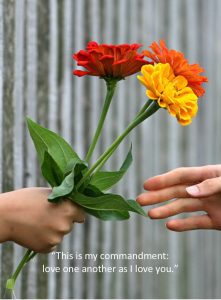 This weekend,  Bishop Parkes has chosen May 6th to consecrate our diocese to the Immaculate Heart of Mary. Be open to the graces that may come this week. We are have some re-sounding graces this weekend as we celebrate First Communion with our students who have been preparing for this sacrament. After a long preparation and study, they are able to receive Holy Communion with our entire community. Can you remember the very first time you received the Blessed Sacrament? Do you remember what you were wearing? Re-kindle your own memories as we celebrate with our students and families this weekend.
No greater gift can we receive than the fullness of God's love in holy communion. In our gospel today (John 15:9-17) we are reminded that it was not us that chose the Lord, but he first chose us, so that we may have life, and have it to the full. This weekend, when we witness our students receive their First Holy Communion, maybe it can be a refresher course for us. There is proper preparation that we must make before receiving the Sacrament. It is not something we just take; we are actually to receive it. Prior to receiving, we do have an hour fast. Confession is essential if we do not, and are not following the Commandments of the Lord. We hear in our second reading "If you keep my commandments, you will remain in my love." Jesus wanted to speak clearly.
Pentecost Sunday will be celebrated on May 20th. We celebrate Pentecost in our community with a Mulit-Cultural Celebration. This is one of our highlighted activities of the whole year. We gather as a International Family of Faith. We are a rich, diverse community with families from countries all over the world. Come and Experience the extensive cultures, foods, music, and art from members of our own parish family.
Peace and Prayers,
Fr. Kenneth J. Malley
PS – Next weekend – Mother's Day,  we will have a Full Country Breakfast after all morning masses. Come and join us. Invite your mother. If your Mother is not here, consider joining in to serve.