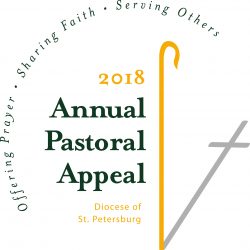 Here at St. Timothy Parish and throughout our diocese we have much to be grateful for. We have truly been blessed as a faith family. And as we head into the 50th anniversary year for our diocese, we can look back in gratitude for all we have received, joyfully celebrate our present, and embrace hope as we build a vibrant Church for generations to come.
As your pastor, I want to let you know that I support our Annual Pastoral Appeal. This diocesan appeal provides the means to continue the mission that Christ has entrusted to us: to serve, to educate, to care for the poor, and to be a beacon of hope. The ministries, programs and services that are funded from this effort allow us to fulfill this responsibility given to us all. We are all invited to make a gift and share our blessings, bringing hope to thousands throughout our diocese.
Each year situations change. Our annual gift to the parish and diocese will also change. In November, we encouraged our parish tithe and each year around the end of January we make time for our diocesan tithe. The basic encouragement that I suggest is 4% to the parish, 1% to the diocese and then 5% to the charities of your choice. All that we have is a gift from God. Tithing is simply a way of managing the gifts that have been given to us. For those of you who have already made a gift or pledge by sending in your pledge card that you received at home, I thank you. For those who have not, please make time today or this week to submit your pledge as soon as possible.
Peace and Sincere Gratitude,
Fr. Kenneth J. Malley