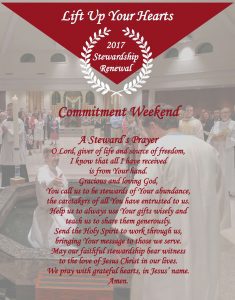 Today is Commitment Sunday for our Annual Stewardship Renewal. This is our third year in promoting the process of Stewardship Renewal. I pray that this annual renewal time does not come across as a burden, but simply as an exercise in Faith.
This weekend, I would like to ask each household to complete and submit one commitment card. This is not a binding legal document. It is only an exercise and a pledge of your support as we pledge our support to you. The first gift is your prayer and your presence. The first option on the commitment card is to attend mass on Sunday and Holy Days. Each commitment is important. You are probably doing more than you already know.
Our stewardship renewal is about invitation. Our way is not about negative catholic guilt; negative guilt is oppressive. Positive momentum can inspire us, or encourage us into greater acts of service or activity. The early followers of Christ were called to live heroic lives for Christ. In our current culture, we are in need of heroic witnesses of Faith. I believe that together we can cultivate a community of heroic witnesses of Faith. Thank you for all your support for our community. I pray that we may provide that support for you and your family in your time of need.