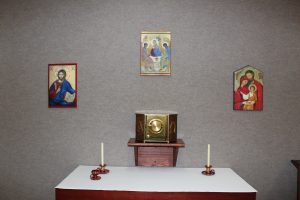 The Fall Season is off and running. How is your prayer life? Is it engaged and active or dormant and lethargic. If you would like a spiritual energy boost, I invite you to carve out time during your week for some quiet time with the Lord.
In our parish, we are choosing a stewardship model of Faith Formation which involves extended times of Exposition of the Blessed Sacrament. I am proposing that we have the Blessed Sacrament Exposed from 8AM-8PM Monday thru Friday. As long as I can get two people for each hour to sign up, we will be opening a chapel in the Parish Center for this time of prayer. I believe this can be the most important work of the church. It will be comforting to know that there will be people praying for you and your family during the week. We need God's grace to follow the way of the Cross of Christ. We will still have our normal Wednesday evening mass, prayer and Benediction.
Please take some time to prayerfully consider signing up for an hour a week in prayer for the mission of our Church; no experience is needed. Just come and "be" before the Lord. All you have to do is start, and the Lord will guide you in the rest. People will also be free to visit when you are not signed up. We will also keep the main church open during our weekday hours, and on Saturday and Sunday. Come and allow yourself to enter into God's rest.
Peace and prayers,
Fr. Kenneth J. Malley
Clarity Of Terms:
ADORATION is time before the Blessed Sacrament in the Tabernacle.
EXPOSITION is time before the exposed Blessed Sacrament in a Luna or Monstrance.