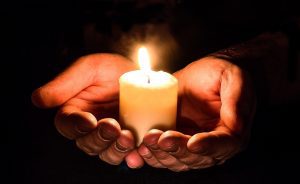 (Ref. Phil. 1:20-27)
Blessings to you and your families. I invite you to count your blessings; be aware of them and let your blessings be seen and shared by others. We hear of earthquakes, floods, hurricanes, wildfires, persecution and enslavement of people.  Where is Christ in the midst of crisis and turmoil? Christ is in you and me. St. Francis said that he would rather bless the light than to curse the darkness. I invite you to discover or maybe re-discover the light of Christ that is in you.
In our second reading today St. Paul reminds us that "Christ will be magnified in my body." St. Paul learned that his greatest fulfillment was not found in the things of the world but rather it was found in God and Godly ways. In this place of fulfillment we can be reminded and encouraged to "seek the Lord while He may be found, call to Him while He is near." (Is. 55:6).
I am glad you are here today. Many others can use the encouragement that you receive. When we pass on and speak of the blessings we receive,  they grow and increase within us. When we are able to give testimony about the work of God that is happening in our lives, we are able to magnify the Lord by the witness of our lives – just as St. Paul mentioned in our second reading today. Seek ways to magnify the Lord by your life this week. You have the potential to make a world of difference.
Peace and Blessings,
Fr. Kenneth J. Malley