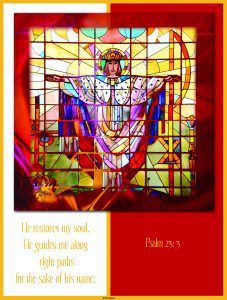 We are Blessed! I hope you had a good Thanksgiving and remembered to thank God for His blessings in your life. We are called to develop an "attitude of gratitude." When we do not cultivate an attitude of gratitude, an attitude of negativity and neediness can come into play. When we have an attitude of being blessed and being grateful, we recognize what we have been given and what we have to share.
Our challenging gospel today of Matthew 25:31-46 is a good reminder of our accountability to those in need, those in prison, those without food, shelter or clothing. I believe that this is Mother Teresa's/St. Teresa of Calcutta's favorite scripture. It is a reminder for each of us that we can't just say, oops, I didn't notice you hungry, thirsty or in need. There are opportunities all around us, people in need or people who could benefit from our comfort, our care, our support and our prayer. Are you able to recognize the Lord in the hungry, the needy, those without family, or loved ones for support? Whatever we do, or do not do, we do unto the Lord. "Amen, I say to you, whatever you did for one of the least brothers of mine, you did for me." (Mt. 25:40).
I invite you to make time for our Advent Parish Mission which will begin next weekend. Fr. Philip Scott, who is one of our diocesan priests, and founder of a religious order (Family of Jesus Healer) now serves with his missionaries in the Amazon Jungle of Peru. His particular focus is on the family. Fr. Philip preaches and prays for families in need of particular spiritual, emotional and physical healing. I ask for your prayers for this Advent Parish Mission. The Parish Mission can be a time of renewal for the whole community, and it can open us to the needs of Christ, which we can meet in our brothers and sisters around us.
PS – Invite a friend to our parish mission next weekend. Simply invite them to come and see.