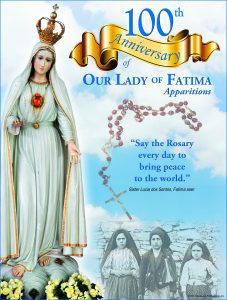 It was in May of 1917 that the first Apparition of Mother Mary was experienced by three young children in Fatima, Portugal. The historic events of Fatima in 1917 have inspired the world for generations; we are another generation that recognizes the gift of Mother Mary for our world. The Mother of Jesus accepted her Divine Call and she wants to inspire us to attend to our Divine Call.
We need Grace to attend to our Divine Call. The children of Fatima were given a new prayer to say during the rosary after each decade – "O my Jesus, forgive us our sins, save us from the fires of hell. Lead all souls to heaven, especially those in most need of your mercy." Our prayers make a world of difference. In the midst of many trials and struggles, it may seem like our prayers do not make a difference. However, Our Lady of Fatima encourages each of us to pray without ceasing and with hope. In the end, we know that her Immaculate Heart will triumph.
We are a people of Faith. United, we can do great things with the Lord and for the Lord. Next weekend we celebrate World Mission Sunday. It is also our Parish Festival Weekend. When we gather locally with our Faith Community, we can make a global impact. We have people in our community from all over the world, with family members that live in different places around the world. When we build up a community of Faith here in Lutz, we have the potential to make a global impact. When the children of Fatima first encountered Mary, they had no idea how big their message would be. One hundred years later we are still "un-packing" the mystery of the messages of Fatima. I would like to thank you for being a part of our World Mission. It does make a difference.
PS – During this month of October, we join the Respect Life Movement in the Forty Days For Life (www.40daysforlife/tampa) period of prayer. May we grow as a Respect Life community.