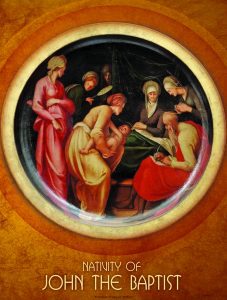 The prophet Isaiah proclaimed – "Though I thought I toiled in vain, and for nothing, uselessly, spent my strength, yet my reward is with the Lord, my recompense is with God." (ref. Isaiah 49:1-6). Normally this feast day is not celebrated on a Sunday. This year, we have a special emphasis on the birthday of John the Baptist, the precursor of Jesus. "As John was completing his course, he would say – 'What do you suppose that I am? I am not he. Behold, one is coming after me, I am not worthy to unfasten the sandals of his feet." (ref. Act 13:22-26).
Each of us has something to learn from the life and ministry of St. John the Baptist. He lived a life of radical simplicity, and a complete commitment to his mission. He was the one who helped prepare the hearts of individuals before they encountered Jesus, the Christ. In the womb of his mother, Elizabeth, John leapt for joy in the presence of Jesus. The life of John the Baptist was a bold and a courageous model of Faith. He called people to baptism and to repentance of their sins. He was not just preaching empty words. He challenged individuals to a radical conversion of life. He was faithful to his unique call and vocation.
This weekend, we bid a fond farewell to Fr. Kevin Yarnell. We have a special gathering for him after the Sunday, 9am Mass in the Parish Hall. I am so grateful for the work and ministry of Fr. Kevin here at our parish. His dedication, his service, and his commitment to ministry will have a lasting impact in our parish; from Youth Ministry, Vacation Bible School, RCIA, Altar Servers, Lectors, Liturgical Ministries, Summer Camp, preaching and many other areas, Fr. Kevin shared his gifts and talents. He now moves on to be the Administrator at Sacred Heart in Pinellas Park.  Our prayers go with you Fr. Kevin. Our gratitude for your time with us will remain.
With our Diocese of St. Petersburg,
May we all strive to Courageously – Live the Gospel,
Fr. Kenneth J. Malley