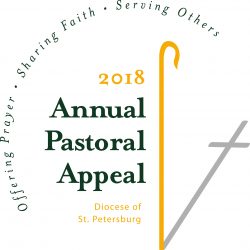 Education Weekend
By now you should have received an invitation from Bishop Parkes to participate in the 2018 Annual Pastoral Appeal. Next week, we join with him and all of our sisters and brothers throughout the Diocese to give thanks for what we have received and to give hope to those we assist.
The Annual Pastoral Appeal provides each of us with the opportunity to touch the lives of others with love and charity. This is a blessing for us AND for those we are able to help. Outreach efforts funded by the appeal help people struggling with homelessness and unplanned pregnancy. It helps provide care for the elderly and assistance to the incarcerated and their families. The appeal supports our men studying for the priesthood and permanent diaconate. It provides assistance for students seeking a Catholic education and opportunities for people of all ages looking to grow in their relationship with Jesus Christ.
Next weekend is commitment weekend. Many people feel that they can participate at a sacrificial gift level if they make payments over a period of time. We currently work with monthly and annual pledge cycles. Donors who pledge will receive reminders according to their designated payment schedule.
Thank you for your generosity and support,
Fr. Kenneth J. Malley
Making a gift – Use a pledge envelope that has our parish name on it. Gifts can be made on-line, by check, Matching Gifts Programs, gifts of stocks or securities. If you have any questions on types of giving, you can contact Kathy King in our diocesan office (kck@dosp.org – 727-344-1611).